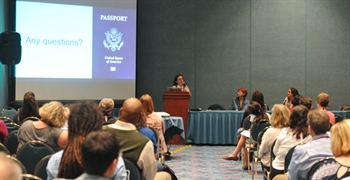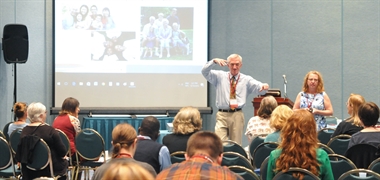 Log into the Speaker Service Center to update your information, upload handouts, and access additional speaker information. 
Speaker Resources

The Conference Program Committee has compiled a list of resources that may be helpful in preparing for your presentation.

    Poster Session Information for Presenters   

Speaker Information and Policies
Speaker Registration
Conference speakers who are employed by or a trustee of a library (academic, public, school, special), a library agency, or library school located in the State of Illinois are required to register and pay the appropriate registration fee for the conference. Speakers from outside the Illinois library community will receive a one-day waiver of their registration fee.

Program Description and Program Etiquette
While the Conference Program Committee understands that program copy is written several months before the conference, and that there can be many developments between now and then, it requests that your presentation accurately reflect the program description you have submitted. Program attendees should experience the program they intended to attend. Also, the program should fit your time slot, allowing 10 to 15 minutes for questions.
In addition, please ensure that your program ends on time – especially if there is a program scheduled after yours. The speakers for the next program will need time to check their AV and prepare the room.
Room Setup 
Each program room will contain a podium with a microphone and a head table with six chairs and two table microphones. 
Audio-Visual
There will be a projector and screen in each room and WiFi will be available. If you plan to use WiFi for your presentation, please have a backup copy of your presentation in case there are connectivity issues.
Microphones
Please use the microphones, even if you think you're speaking loud enough. It is an accessibility issue for attendees who may not want to identify their hearing difficulties.
Computers
Please remember to bring your computer; they are not supplied by the conference. If your computer does not have a VGA port, please bring an appropriate adaptor. A limited number will be available onsite.  
WiFi
WiFi will be available, but it is strongly suggested that speakers not rely on WiFi for their presentations. If you plan to use WiFi for your presentation, please have a back up of your presentation in case there are connectivity issues. 

Conference Handouts
Speakers are expected to make their handouts and/or slides available for attendees to download. Speakers are encouraged to submit handouts via the speaker service center by Monday, October 21. Attendees appreciate having access to handouts before attending the program. Handouts will be available via the conference website and mobile app.

Program Coordination and On-Site Organization
The Program Moderator is generally the person that submitted the program proposal and is considered the primary contact for that session. 
On-site, each Program Moderator is responsible for:
Inspecting the room at least 15 minutes before the program is scheduled to check whether all requested equipment is in place. A Conference Program Committee member will confirm that you have everything you need. 

Introducing the speaker(s) or making sure someone else has been designated to introduce the speaker(s). Be sure to request biographical information from your speaker(s) before the conference.  

Providing any assistance the speaker(s) or attendees may need during the program (securing speaker badge(s), distributing handouts, keeping time, assisting with AV, etc.). 




Speaker Travel and Housing
Speakers who have been invited from outside the Illinois library committee may have their travel and housing covered. For those speakers whose housing and travel will be covered, conference staff will make hotel reservations. Speakers are asked to make their own travel reservations, which will be reimbursed. All other speakers should make their own hotel and travel reservations.