Fund for Illlinois Libraries
The Fund for Illinois Libraries was created in 1990 to help Illinois libraries in their fundraising efforts. Libraries often solicit funds from the general public, businesses, or foundations. In some cases, donors are permitted to give only to organizations holding IRS 501(c)(3) tax-exempt status. For many libraries, this means foregoing a gift, as the time, effort, and costs of establishing and maintaining 501(c)(3) status are prohibitive.
The purpose of the fund is to enable libraries to receive gifts from individuals or organizations that can only make donations to 501(c)(3) charitable organizations.
ILA is the administrator for the Fund. In that capacity, ILA provides a fund agreement (see below) to participating libraries that allows them to solicit funds and provide the donors with an ILA tax exempt letter for purposes of documenting the tax deductibility of their donation. Over the past two years, the Fund has received $248,678 from 34 contributors.
The participating library directs the donor to make the contribution check payable to Illinois Library Association and sent to their offices at:
Illinois Library Association
33 West Grand Ave., Ste. 401
Chicago, IL 60654-6799
Requirements
The annual fee associated with processing donations in a year is listed below and the library must be/become an ILA institutional member during the year in which the service is being used.
| | |
| --- | --- |
| Donations per year | Annual Fee |
| $1 - $999 | $50 |
| $1,000 - $4,999 | $100 |
| $5,000 or above | $300 |
Please e-mail the completed and signed agreement as a PDF attachment to accounting@ila.org.
Click here

 to learn more about becoming an ILA Institutional Member.

If you would like to check on your Institutional Membership Status or to join, please contact ILA Membership at 312-644-1896.
---
Frequently Asked Questions
Q: Does every donation to the library need to go through the Fund?
A: No. Only those donations from foundations or organizations requireing 501(c)3 status for taxing purposes need to go through the fund. It is not necessary for donations from individuals to libraries to go through the Fund unless an individual is donating from a trust or similar account. Individuals donating from their own personal checking or savings account can write off such donations on their income tax forms just like other charitable donations.
Q: Our library is applying for a grant that requires a fiscal sponsor. Can ILA act as the fiscal sponsor via the Fund?
A: No. ILA does not act as a fiscal sponsor for external grants.
Q: How are checks to be written?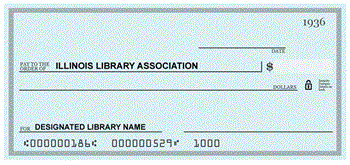 A: When instructing donors on how to make donations, please be sure that they make checks payable to the Illinois Library Association, with a notation that the donation is being made for your specific library. This is very important because if the check is made to your library we will have to return it and request another which only delays when your library receives donations. Additionally, if the donor does not note which library the donation is for, we will have no idea to whom to send the funds. See example check to the Fund.
Q: Where should checks be sent?
A: Checks should be mailed to the ILA offices:
Illinois Library Association
33 West Grand Ave., Ste. 401
Chicago, IL 60654-6799
Q. Can a donation be made using ACH?
A. Yes, donations can be made using ACH but the donor will need to contact ILA and let us know a donation will be made in this way. Donors can email ila@ila.org with the donation amount, library name, and approximate date the ACH deposit will be made. 
Q: How long before my library receives the donation from the Fund?
A: Generally, it will take about two weeks from ILA's receipt of the donation until you receive a check from ILA. This is to allow time for the donation to clear the bank.
Q: Who do I contact if I have questions?
A: Questions should be directed to:
ILA Accounting
Illinois Library Association
33 W. Grand Ave., Ste. 401
Chicago, IL 60654-6799
Phone: (312) 644-1896
Fax: (312) 644-1899
Email: ila@ila.org or accounting@ila.org

Q: Where do I find the Fund for Illinois Libraries Agreement Form?