Maintains a continuing education program and information network for library trustees and encourages citizens' use and support of libraries.
---
Events
Aug

18

2018

Saturday, Aug 18, 2018 10:00am

TBD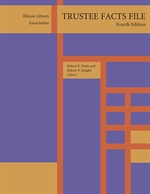 The fourth edition of the Trustee Facts File is meant to provide a broad overview of the duties, responsibilities, and tasks of the public library trustee. Available via Amazon, Barnes & Noble, and Apple sites for download to Kindle, Nook, and iPad.
---
This useful resource contains information on annexation, charitable giving, fee calculation, ordinances, grant planning, and more. This material was published on CD-ROM, and was made possible by grant funding provided by The Illinois State Library, a division of the Office of the Secretary of State using federal LSTA funding.
---
Other Trustee Information
---
Forum Leadership
---