The Students & New Professionals Forum represents the interests of students and new library professionals in Illinois, provides a forum for students and new professionals to discuss issues of particular interest to their demographic, and encourages active participation in Illinois library organizations.
---
Past Events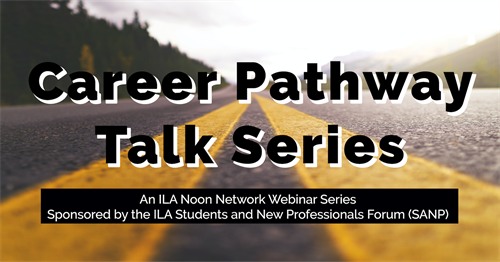 The ILA Students and New Professionals (SANP) Forum, in partnership with the ILA Noon Network, presented the Career Pathway Talk Series. The webinar series featured emerging and experienced library professionals, who have worked or are currently working in public, academic, special, and/or school libraries, sharing their stories and offering advice on how to navigate a career in the world of librarianship. Webinars were held on November 11, 2020, January 27, 2021, and March 31, 2021. 
---
Career Pathway Talk Series Webinars
Career Pathway Talk Series Webinar - A College Student's Best Friend: The Academic Librarian
While college and university students often spend hours sitting in their schools' libraries studying, many are never aware of one of the most useful resources there: the academic librarians. From helping students find resources for their papers and conducting library instruction sessions to curating special collections and developing strategies for equity and open access, academic librarians can be a crucial part of students' academic success. Panelists will discuss their experiences within academic libraries, including how to utilize skills from previous careers to engage students and garner administrative support.
---
Career Pathway Talk Series Webinar - For the People: A Day in the Life in Public Librarianship
Sometimes called "palaces for the people," public libraries play a powerful role in communities, providing much more than access to books and information. Learn how staff from different libraries are adapting programming, growing community connections, and developing leadership skills to meet the changing needs of their patrons. Panelists will discuss their experiences in delivering services for patrons with dementia, working with Spanish-speaking/bilingual children and families, and leveraging prior professional experiences to develop a career in public librarianship.
---
Career Pathway Talk Series Webinar - Librarianship Specializations Beyond "Traditional" Library Careers
Have you wondered about a career as a law or medical librarian? Have you considered a career as an independent library consultant (or a professor)? Established professionals with numerous years in librarianship will discuss their experiences in these fields and more, offering students and new information professionals an introduction to the breadth of career opportunities possible in librarianship.
---
2020-2021 ILA SANP Meeting Schedule
Quarterly, third Wednesday at 12pm via Zoom
May 19, 2021, 12-1pm
Zoom link: https://us02web.zoom.us/j/81889610468
---
Resources:
Submit a Webinar Proposal
ILA Noon Network
The ILA Noon Network is a new learning resource for Illinois library professionals. The ILA Noon Network is afternoon micro-learning webinars on various topics designed to help achieve professional development goals.
Webinars are twenty to thirty minutes followed by a question and answer session. Webinars are held at noon on Mondays and Wednesdays throughout the year (webinars are not held in October and December). If you have an idea for a future webinar or would like to present please email Tamara Jenkins at tjenkins@ila.org. or fill out this submission form.
---
---
News
April 22, 2021
For library students or those who are new to the profession, networking and getting involved in professional organizations can, at times, be difficult or overwhelming. The Students and New Professionals Forum (SANP) exists to help connect students an…
---
Forum Leadership
---