Works to resist all attempts to censor library materials or to restrict public access to information.
---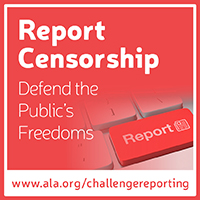 Report Challenges to Library Materials
Since 1990, the ALA Office for Intellectual Freedom has maintained a database on challenged materials. You can report challenges to materials in your library's collection by following the link below. 


Committee Charge
• Keeps abreast of statewide and national issues and challenges.
• Gathers and disseminates information to the membership.
• Serves as a clearinghouse and source of information for libraries seeking assistance.
• Promotes intellectual freedom by actively contacting library and school officials where materials or procedures have been challenged, offering the assistance of the ILA membership.
• Raises awareness and provides continuing education activities.
• Selects the Intellectual Freedom Award winner.
• Provides leadership and assistance in access and privacy for electronic information.
---
---
Committee Composition
Committee membership is not more than ten personal members from diverse types of library settings. Members serve a two-year, staggered term. Chair is appointed by the vice president/president-elect of ILA for one year.
---
---