Works to resist all attempts to censor library materials or to restrict public access to information. Keeps abreast of statewide and national issues and challenges. Gathers and disseminates information to the membership. Serves as a clearinghouse and source of information for libraries seeking assistance. Promotes intellectual freedom by actively contacting library and school officials where materials or procedures have been challenged, offering the assistance of the ILA membership. Raises awareness and provides continuing education activities. Selects the Intellectual Freedom Award winner. Provides leadership and assistance in access and privacy for electronic information.
---
News
December 10, 2020
The members of the Intellectual Freedom committee are dedicated to defending the rights of their community's ability to access accurate information and to prevent censorship of library materials. We are available to assist and support…
February 20, 2020
Intellectual Freedom is a concept near and dear to our hearts.  Our Association's Intellectual Freedom Committee works to resist all attempts at censorship and serves as a ready brigade to assist you and your library with any cha…

Dr. Nicole Cooke, University of Illinois at Urbana-Champaign, Named Recipient of the Intellectual Freedom Award

July 16, 2019
The 2019 Illinois Library Association Intellectual Freedom Award is awarded to Dr. Nicole Cooke, Associate Professor and MS/LIS Program Director University of Illinois Urbana-Champaign. The award, presented by the ILA Intellectual Freedom Committee, …
---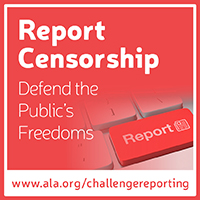 Report Challenges to Library Materials
Since 1990, the ALA Office for Intellectual Freedom has maintained a database on challenged materials. You can report challenges to materials in your library's collection by following the link below. 


Other Resources
---
---
Committee Composition
Committee membership is not more than ten personal members from diverse types of library settings. Members serve a two-year, staggered term. Chair is appointed by the vice president/president-elect of ILA for one year.
---
---