News
Chicagoans of the Year for Books: Librarians and library workers of Illinois fight for dignity during a year of challenges

December 21, 2022
Article in Chicago Tribune "Chicagoans of the Year for Books: Librarians and library workers of Illinois fight for dignity during a year of challenges" When Julie Milavec thinks back on the past 12 months, her sigh gets long and heavy, almo…

Intellectual Freedom Challenges to Library-Initiated Programs: Some Recent Examples from Illinois Libraries

September 1, 2022
Article published by ILA Intellectual Freedom Committee in the September 2022, Volume XL, Issue 3 of the ILA Reporter (Download PDF) Written by Jeremy Andrykowski, Oak Park Public Library and Matt Matkowski, Palos Heights Public Library The Amer…

Deborah Caldwell-Stone, Director of the ALA Office for Intellectual Freedom, Named Recipient of the 2021 Intellectual Freedom Award

July 1, 2021
The 2021 Illinois Library Association Intellectual Freedom Award is awarded to Deborah Caldwell-Stone, director of the American Library Association's Office for Intellectual Freedom and the Executive Director of the Freedom to Read Foundation. …
---
Events
May

10

2023

Wednesday, May 10, 2023 2:00pm–3:00pm

Zoom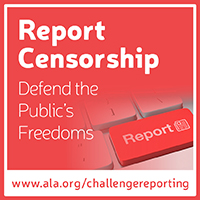 Report Challenges to Library Materials
Since 1990, the ALA Office for Intellectual Freedom has maintained a database on challenged materials. You can report challenges to materials in your library's collection by following the link below. 
IFC Resource Guide
Intellectual freedom issues are on the rise at libraries nationwide. This sheet, prepared by the ILA Intellectual Freedom Committee for the 2022 Annual Conference, contains resources you can use to help prepare for and respond to incidents. Download the IFC Resource Guide.
Other Resources
---
Committee Charge
Works to resist all attempts to censor library materials or to restrict public access to information. Keeps abreast of statewide and national issues and challenges. Gathers and disseminates information to the membership. Serves as a clearinghouse and source of information for libraries seeking assistance. Promotes intellectual freedom by actively contacting library and school officials where materials or procedures have been challenged, offering the assistance of the ILA membership. Raises awareness and provides continuing education activities. Selects the Intellectual Freedom Award winner. Provides leadership and assistance in access and privacy for electronic information.
The Intellectual Freedom Committee chair(s) serve(s) ex officio on ILA's Public Policy Committee.
---
Committee Composition
Composed of up to ten members,  serving three-year, staggered terms.
---
---
---