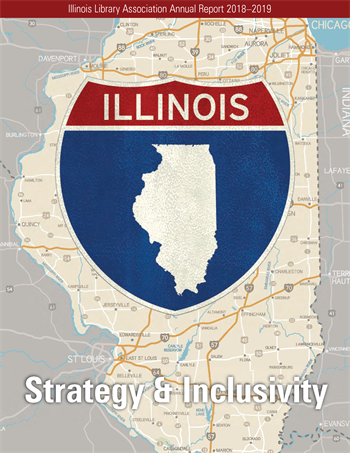 Strategy & Inclusivity
Dear ILA Members and Friends,
Thank you for an incredible year! It truly was a privilege and an honor to be the ILA President this past year. I am so proud of the work that that has been done thanks to the amazing ILA staff and to you—the phenomenally talented volunteers. This is your association. You showed up to conference, maybe presented a program, served on a committee, attended a legislative meet-up, or perhaps gave feedback on the draft of our strategic plan. We are all in this together. Your involvement makes ILA a stronger, better, and a more inclusive organization.
One of the first tasks tackled by a newly elected Vice President/President-Elect each year is to convene a Conference Program Committee and to begin thinking about a conference theme. When I was first elected in 2017, I wanted my conference theme to reflect something that I am passionate about, and to set the tone for the year. The 2018 ILA Annual Conference, themed Libraries: All Inclusive featured an intentional focus. Programs such as "Creative Services for Patrons with Different-abilities," "The Librarian's Guide to Homelessness," "Helping the Unseen: How Do We Recognize and Serve Members of Invisible and Marginalized Groups," "Life Through a Transgender Lens," and many more complemented the message from keynote speaker Gene Luen Yang, 2016-17 National Ambassador for Young People's Literature: that reading can spread appreciation and understanding of others. Fostering true inclusivity is not a "one and done" concept; I know we are not done, but I hope we are further down the road than when we began.
Speaking of roads, ILA has a new road map to take us where we are going: Our newly revised strategic plan for 2019–22! This past year the ILA Executive Board truly did yeoman's work, with additional meetings, a challenge to think creatively and strategically about what we wanted the Association to do and to be, and a mandate to do our very best to craft an inclusive, representative process. Our new mission statement refocuses the Association on our most important component, our membership: "Leadership, advocacy, partnership, and learning for the benefit of Illinois libraries." Top strategic priorities include investing in advocacy, fostering a culture of diversity and inclusion in the association as well as in the profession, and leading collaborative efforts with the myriad of other state organizations to make sure Illinois libraries receive the greatest possible benefit from our work.
Libraries truly are all inclusive, and we can't take that for granted. I am so very proud of the ILA Executive Board, all of our members who serve the association in so many vital ways, and our small but mighty staff. I can't wait to see where the road takes us together, toward advancing our new vision statement: "Collaboratively shaping a new future for libraries in Illinois."
Happy Reading,
Cynthia Fuerst
Vernon Area Public Library District
ILA President, 2018–2019
---
Past Annual Reports