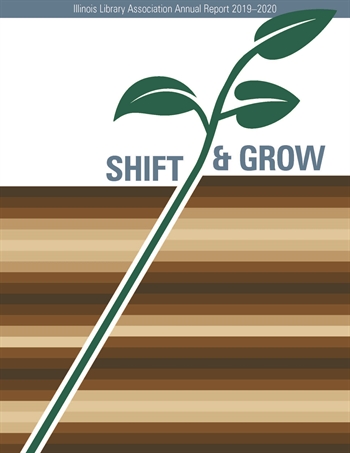 Shift & Grow
Dear ILA Members and Friends,
Writing the Annual Report is an opportunity to take a retrospective look at the past year in the association, and in Illinois librarianship. This year, it's hard to think back to a time before stay-at-home orders, remote learning, and daily Zoom meetings (and sometimes happy hours!). What hasn't changed is the strength, resilience, and dedication of all of you: both on behalf the people you serve in your communities, schools, universities, businesses, and other institutions, and here in ILA. I could not possibly have foreseen what serving as ILA President was going to be like this year, but I am truly honored and privileged to have done so. 
Harkening back to the development of the conference theme for 2019—one of the first responsibilities of a newly elected Vice President/President-Elect along with the Conference Program Committee—"SHIFT! Where Will You Grow?", I note that we have all had to shift this year. We shifted the way we provide services, from primarily in-person with some measure of electronic resources and phone or virtual reference service and instruction; to 100% virtual services temporarily as the State of Illinois' stay-at-home orders took effect. ILA reeled (and shifted!) along with everyone else as the new laws and rules were announced, seemingly one after another, and did our best to keep everyone up-to-date via our daily COVID-19 Updates, which thankfully have returned to their pre-pandemic status as an occasional section in the weekly ILA Alerts. We created the Bigger Than a Building campaign to help libraries promote the idea that the library remains open, and continues to serve beyond our buildings.
The nation shifted this summer with an unprecedented outcry for social and racial justice and equity following the violent deaths of Ahmaud Arbery, Breonna Taylor, and George Floyd. Such injustices against Black Americans are not new, but these galvanized people, including librarians, in umbers and energy not seen since the Civil Rights Movement of the 1960s. ILA leadership quickly issued a statement focusing on the need to act in our own sphere of influence, librarianship, but real change takes time. We have in our strategic plan the twin goals "A Culture of Diversity and Inclusion in the Profession" and " ...in the Association," and while progress has been made (see "ILA Strategic Plan: Current Progress on the Strategy for a Culture of Diversity and Inclusion in the Association," ILA Reporter, vol. XXXVII, issue 1, March 2020), there is much more to be done.
Ideally, the shifts we had to undertake this year will help us grow—as library staff, library trustees, and as an association. One member this year cited her new role as "armchair amateur epidemiologist!" Libraries truly are bigger than our buildings; and we can be better champions of social and racial equity in the communities we serve, and among our library colleagues. As I write this, I currently serve as the association's Past President, whose primary responsibility is to chair the Nominating Committee. I look forward to helping our association continue to shift and grow by helping recruit the next group of leaders to take ILA into the future.
Here's to 2021 and beyond,

Molly Beestrum, Galter Health Sciences Library, Northwestern University, Chicago, IL
ILA President, 2019–20
---
Past Annual Reports