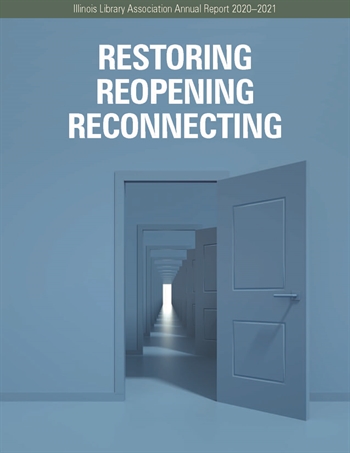 Restoring
Reopening 
Reconnecting
Dear ILA Members and Friends,
When I ran for ILA Vice President/President-Elect in April 2019, I couldn't have imagined what was in store for libraries, or the world in which we now operate. As my term as ILA President began in July 2020, we were in the thick of the COVID-19 pandemic. So much was still unknown and every day was filled with fear and uncertainty. Through it all, libraries and the Illinois Library Association worked hard to continue the services our patrons and stakeholders needed, in the safest way possible. Over the course of the year, we became optimistic about reopening our public spaces, then hesitant as the virus surged again, but we did not give up. Although each library needed to approach the pandemic based on the specific needs of those it served, the Illinois library community came together as a whole to support and guide one another. As the theme of the first-ever virtual annual conference reminded us, "Many Libraries, One State: We Are ILA."
Through the fall and a contentious presidential election, followed by violence at the nation's Capitol, the danger of disinformation became ever clearer. We issued a strong statement condemning the January 6 violence, rooting our stance in our strategic plan's listed core values of the library profession: information access, equity, intellectual freedom, and objective truth. In our annual series of Library Legislative Meet-ups, we kept on message, emphasizing libraries as vital to the reopening of the state.
As I write this, I currently serve as the association's Past President, whose primary responsibility is to chair the Nominating Committee, as well as the Diversity, Equity, and Inclusion Subcommittee of the Executive Board. This subcommittee keeps ILA leadership accountable and led the process to create a foundational document to guide the association's DEI work. I look forward to helping our association recruit the next group of leaders to take ILA into the future; and stewarding the Executive Board in its efforts to continue the momentum re-energized last year toward our strategic goals of a culture of diversity and inclusion in the association, and the profession. I am so proud of, and appreciative of, everyone's participation in the association as we restore, reopen, and reconnect our
libraries, our communities, and ourselves.
Here's to 2022 and beyond,

Veronica De Fazio, Plainfield Public Library
ILA President, 2020–21
---
Past Annual Reports