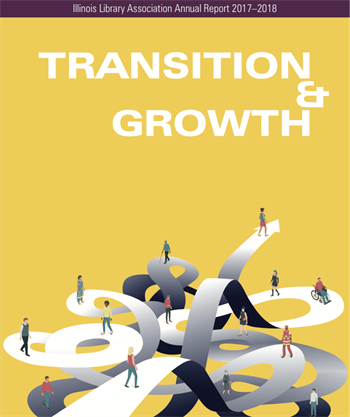 Transition & Growth
Dear ILA Members and Friends,
When I began my term of service as the ILA Vice President/President-elect last year, I hoped to con-tinue the tradition of strong leadership. Leading an organization as longstanding, stable, and successful as ILA was a tremendous opportunity to impact our state! Imagine my reaction upon learning that our dedicated, skilled, and highly valued executive director of 20 years was going to retire on my watch. Bob had fully earned his retirement, and while I was sad that I was not going to get to work with him during my presidential year, I was honored to help him and the organization during this transition.
My goals became focused on the success of the organization during and after the transition. Along with then-current President Pattie Piotrowski I quickly became occupied with leading the search for Bob's successor. What at first seemed scary and daunting became an opportunity, if a challenging one. Bob stuck with us throughout the process, continuing the expert professionalism we were so afraid to lose.
As we navigated through the transition, the opportunity to look anew at what we were doing naturally arose. We as an Executive Board looked inward, each of us completing and discussing the results of a self-evaluation instrument that asked us to consider how knowledgeable and comfortable we were with the budgets, policies, strategic plan, fundraising, etc. of the association we were responsible for leading. We opened up the strategic plan itself, which dated back to 2011, and are even now in the middle of a process to update it. We instituted an additional orientation session for new Board members to complement the information conveyed at the general orientation session in July.
Another focus this year was on equity, diversity, and inclusion (EDI) in Illinois librarianship. Following on the adoption of ILA's "We Are Here" statement in 2016, we updated the name of the ILA committee working in this area from the Cultural and Racial Diversity Committee to the more succinct and general Diversity Committee, accepted a report from the Diversity Study Task Force and began implementation of recommendations, further details of which are outlined in the following pages, and, following our final Executive Board meeting of the 2017-18 year, committed to EDI training for the ILA Executive Board at its September 2018 meeting.
As noted here in this Annual Report, change and transitions this year are catalysts for growth.
As I head into my Immediate Past-Presidential year I look back on 2017-18 with pride and gratitude for the opportunity to serve the association at such a significant time in its history.
Sincerely,
Melissa Gardner, Palatine Public Library
ILA President, 2017–2018
---
Past Annual Reports