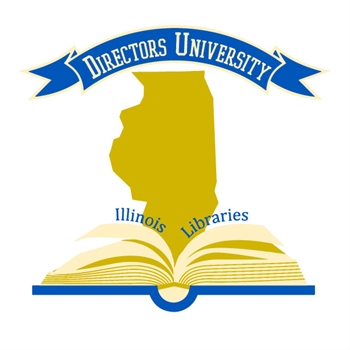 Directors University
June 4 - September 24, 2021



The fifth annual Directors University will be held via Zoom. Directors University is intended for first-time directors and directors new to Illinois from public libraries of all shapes and sizes. 
This four-month series of workshops will train public library directors for their new executive roles. The University will also provide opportunities for networking and team building through small group discussions.
Directors University sessions will be held every other Friday morning, with most sessions running 9:30 a.m. to Noon from June 4 - September 24, 2021. On the off weeks, participants will meet in small groups lead by their mentors. Participants are required to attend all workshops and meetings. Topics include library & employment law, policies, budgeting, board-director relations, leadership, and Illinois State Library and system competencies. 
The registration fee for the program is $100. All materials will be covered by the registration fee and support from the Illinois State Library using funds provided by the U.S. Institute of Museum and Library Services, under the provisions of the Library Services and Technology Act (LSTA).
Approximately fifty participants will be selected to attend, with the intent of maintaining both geographic distribution and variation in size and structure. Preference will be given to new directors who have not previously attended Directors University or SPLMI. Applicants must have been named the permanent director of the library by May 1. 
Applications will be accepted until April 16. Attendees will be notified of their selection by May 3. 
Contact RAILS, IHLS, ILA, or Directors University Co-Chairs with questions. If the registration fee is prohibitive, please contact your library system contact below.
RAILS: 

Joe Filapek, Director of Consulting
and Continuing Education

630-734-5132

joseph.filapek@railslibraries.info

IHLS: 

Anna Yackle
Membership Coordinator

618-656-3216 x618

ayackle@heartland.org

ILA:

Cyndi Robinson
Deputy Director

312-644-1896

robinson@ila.org

Directors University Co-Chair:

Kate Hall, Executive Director
Northbrook Public Library 

(847) 272-7084
khall@northbrook.info

Directors University Co-Chair:


Bobbi Perryman, Executive Director 


Vespasian Warner Public Library District

217-935-5174 

perryman@vwarner.org

Directors University is a joint project of the Illinois Heartland Library System, Illinois Library Association, Illinois State Library, and Reaching Across Illinois Library System.