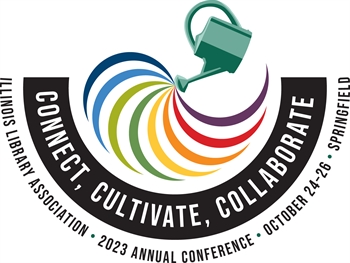 Thank you for your interest in submitting a program proposal for the 2023 ILA Annual Conference. This document will provide the information you need to submit your proposal. All conference programs are 60-minute sessions.
If you have any questions, please contact Kristin Pekoll at kpekoll@ila.org. 



Speaker Expectations
Read and respond to requests for information in a timely manner.

Submit session handouts electronically prior to conference.

Present the program that is described in your program proposal.

Begin and end your program on time.

Register for the conference at the appropriate level.

Follow all conference policies. 


Return to the Call for Annual Conference Program Proposals
Page 1: Primary Speaker Information
Submit your name, email, organization, and title. Additional speakers will be added later in the process. 


Page 2: Session Information
Please note that the questions on this page cannot be edited by ILA. Pheedloop is located in Toronto, which is why program is spelled "programme." It's not a typo.

Session Title
While creative and interesting session titles help capture the attention of both the proposal review committee and prospective conference attendees, be sure that your title clearly communicates your topic.
Session Description
In 200 words or less, describe your session using the guidelines below. Try to get to the core of what your session is about, while making it sound informative and interesting. Refer to the call for proposals for guidance in crafting your abstract. If accepted, this copy will appear in the final program listing on the conference website, in the conference app, and in the conference program book. Direct this description to conference attendees, not to the review committee. Additional background information about your proposal can be entered later in the submission process. 
Do not include presenter's names or biographical information in the description; speakers' information will be submitted elsewhere.

Do not use abbreviations or acronyms without clarification.

Sessions cannot be an advertisement for a vendor or demonstration of a vendor-provided product or service. Specific products or services may be described if essential for understanding a session's topic. Library staff who use the product or service must participate in the presentation.
Program Tracks
Please select a primary track for your abstract. The Conference Program Committee reserves the right to change primary program tracks or list programs in additional tracks.

Collections and Technology

Collection Development

Technical Services

Technology

Scholarly Communication




Outreach Services

Collaboration and Community Engagement

Marketing and Outreach

Programming




Core Values

Advocacy 

Equity, Diversity, and Inclusion 

Intellectual Freedom

Social Justice



User

Services 

Adult Services

Customer Service

Readers' Advisory

Reference Service

Youth and Young Adult Services

Leadership, Management, and Staff Development

Buildings and Facilities

Funding and Finance

Human Resources, Recruitment, and Retention

Personal Enrichment and Growth

Safety and Security

Strategic Planning, Data Driven Decisions, and Change Management

Trustees

Teaching and

Lifelong

Learning

Assessment and Evaluation

Instruction

Maker Movement

Student Success

Select Format

Ignite

Discussion Groups

Hands-on or Workshop
Lecture (one primary speaker)
Panel or Interview
Select Audience(s)

Academic

Public

School

Special
Will your session have any co-presenters?
If you select yes, a co-presenter portal will open. Submit the co-presenter(s) name, email, organization, title, state, and city.


Page 3: Additional Information

 

If this is a paired program, please indicate the name of the other program.

Session Tags
Select up to three (3) tags that describe the content of the proposed session. The tags will help conference attendees identify additional sessions that may be of interest to them.
Access Services

Accessibility and ADA-Compliance

Administration

Adult Services

Advocacy

Assessment and Evaluation

Best Practices and Standards

Budget Conscious Programming/Services

Budget Planning and Finance

Buildings and Facilities

Campus-wide Initiatives

Career Advice

Cataloging

Change Management
Circulation

Civic/Community/Campus Engagement

Collaboration

Collection Development

Continuing Education and Professional Development

Customer Service

Data-Driven Decisions

Design Thinking

Digital Literacy

 

Digital Resources

Digitization

Disaster Planning

Distance/Online Learning

Diversity, 

Equity,

 and 

Inclusion

Early Literacy 

eBooks

Facilitation

Failure

Friends Groups and Foundations

Fundraising and Development

Future Forecasting

Games and Gaming

Genealogy

Government Documents and Services

Guidelines and Standards

Human Resources

IACRL @ ILA (academic-focused)

Information Literacy

Innovation

Instructional Design

Intellectual Freedom and Ethics

Intellectual Property

Leadership

Library School Education

Local History

Makerspace

Management

Marketing

Mentoring

Metadata

Mindfulness

Mobile Technology

Multi-Generational Engagement

Multi-Type

Networking

Open Access

Open Education Resources

Organizational Change

Outreach Services

Partnerships and Collaboration

Personal Growth

Personnel, Staffing, Remote Working

Popular Culture and Fandom

Preservation

Privacy

Programming

Project Management

Public Policy/Government Relations

Public Services

RDA

Readers' Advisory

Recruitment and Retention

Reference Services

Research

Resource Sharing

Rural and Small Libraries

Self Care

Serials

Scalable Programming/Services

Scholarly Communication

Special Collections/Archives

Special Needs Populations

Strategic Planning

Sunsetting

Teaching and Learning

Technical Services

Technology

Training

Trends and Forecasting

Trustees

Urban Libraries

User Experience

Work/Life Balance

Young Adult Services

Youth Services
Learning Outcomes
Please identify three (3) learning outcomes for your session. Learning outcomes should use active verbs, be measurable, and state what the participants should know or be able to do after attending your session. Learning outcomes should not simply repeat topics that will be addressed or activities that will take place during the session. Phrase each learning outcome as a completion of this sentence: "At the end of this session, participants will…"
How are the proposed speakers qualified to speak on this topic? Have they presented on this topic before?
Please Note: Briefly explain how the speakers are qualified to present on this topic. What is their experience with this topic? Please limit the description for each speaker to a sentence or two. 

Preferred Program Day
We will attempt to honor requests, but there is no guarantee you will receive your requested time or date.
No Preference




Tuesday 10/24

Wednesday 10/25

Thursday 10/26 (Trustee Day)
Preferred Program Time of Day
We will attempt to honor requests, but there is no guarantee you will receive your requested time or date.
No Preference

Morning

Afternoon
Program Level

Beginner (little to no experience with the topic)

Intermediate (some experience with the topic)

Advanced (expertise in the topic)
Please indicate your preferred room setup

No preference

Theater (rows of chairs)

Rounds (round tables with chairs)
Is there any additional information you'd like the committee to have about this program? 
Enter any additional comments here. 
Please indicate if this program is being submitted on behalf of an ILA Forum or Committee
Check the appropriate Forum(s) and/or Committee(s).

Illinois Association of College & Research Libraries Forum

Resources & Technical Services Forum

Small and Rural Libraries Forum

Students and New Professionals Forum

Young Adult Services Forum

Intellectual Freedom Committee
Are you employed by or a trustee of a library (academic, public, school, special), a library agency, or library school located in Illinois?
Conference speakers who are employed by or a trustee of a library (academic, public, school, special), a library agency, or library school located in Illinois are required to register and pay the appropriate registration fee for the conference. Speakers from outside the Illinois library community will receive a one-day waiver of their registration fee. 
Are you or another speaker on your program requesting an honorarium and/or travel expenses? If so, please enter their name and amount below.
Honoraria or travel expenses will not be paid to staff or trustees of Illinois libraries (academic, public, school, special), library agencies, or library schools.