Thinking of nominating an Illinois Library Luminary? Thank you for considering honoring your colleagues and supporting Illinois librarianship in this manner! Everything you need to know and do is right here.
---
First: Who Can Become an Illinois Library Luminary?
Luminary candidates must have made a significant contribution to Illinois libraries. Nominees can be living or deceased.
This honor is open to anyone who meets the above criteria. They don't have to be directors, managers, or others in traditional library leadership roles. The person who did your weekly storytime, or who greeted patrons with a smile at the circulation desk for 25 years could make great candidates.
In fact, candidates do not need to have been a librarian or library staff at all! Did your mayor work to provide funding for a new building? Did a library advocate make a big difference in your community? Did someone plow your parking lot for free year after year after year?
Second: How to Nominate an Illinois Library Luminary
You will need to submit a letter of nomination to the ILA Executive Board. This 200-word maximum letter should include a bio outling key accomplishments (positions held, honors received) dates of birth and death (if applicable), and a photo.
The ILA Executive Board meets five times per year and must vote to approve Luminary nominations before the fundraising campaign begins. Meeting dates are listed on the ILA website. You do not need to appear at the board meeting.
Submit your letter to ila@ila.org and copy the current chair of the ILA Fundraising Committee, whose email address may be found on the ILA website.
Following the meeting, ILA staff will notify you and the Fundraising Committee Chair. 
Third: The Fundraising Campaign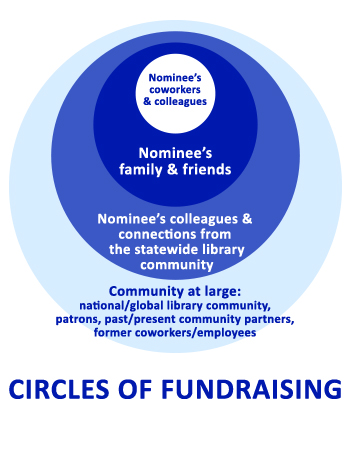 It is the nominator's/champion's responsibility to lead efforts to raise $2,000 within one year. That may seem daunting, but you'll be surprised how readily people will support your cause! We've included sample solicitation letters to get you started.
Nominations and campaigns that are not posthumous are typically confidential. This is to avoid embarrassment if the campaign is not successful. If you feel there is a reason to seek the nominee's permission or otherwise notify them, you may, but you do not have to.
Create a list of potential donors. 40 people giving $50 reaches the goal. Use the "Circles of Fundraising" concept to identify audiences. Build a big list—the more the merrier. The worst they can say is "no."
Ask for a specific amount. Any donation is welcome, but people appreciate the guidance. We use $50 as a start, but you might feel your audience is more open to $25 or $100. It's up to you; you can even vary the amount depending on whom you're asking.
Start your outreach! Direct potential donors to the ILA website for online donations, or they may mail a check made out to "Illinois Library Association Endowment" to Illinois Library Luminaries, ILA, 33 W. Grand Ave., Ste. 401, Chicago, IL 60654.

Make sure your potential donors know to include the

 

luminary

 

nominee's name in their donation so it is properly attributed with no delays. If mailing a check, they can write the name on the memo line or include a short note. If donating online, the name can be typed in the box next to "Dedication or additional information". 
ILA staff tracks donations and will report donor names and the cumulative amount to you and the Fundraising Committee chair at least once per month, and when the threshold has been met.
The ILA Executive Director sends a thank you note with tax benefit information to each donor.
If after the one-year time period the full $2,000 is not raised, funds collected to that point will be deposited in the ILA Endowment Fund.
Fourth: Induction
The candidate is inducted once $2,000 has been raised on their behalf in a one-year time period. Similar to the nomination process, the ILA Executive Board will vote to induct successful Luminaries.

ILA staff will notify you and the Fundraising Committee chair following the vote and you can decide who will give the Luminary the good news!
ILA staff will send the "nuts and bolts" information to the Luminary regarding the annual awards ceremony, where and when the Luminary will be announced and promoted, etc. Once the successful campaign is complete, please remember to send each donor a thank you note.
Documents and Sample Letters