Legislative Update -- January 16, 2020
January 16, 2020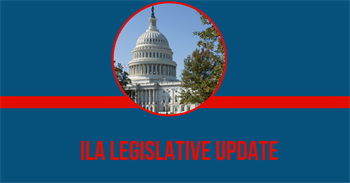 As the spring 2020 session approaches in Springfield, you may be seeing news emerge about potential bills that legislators plan to introduce. ILA remains focused on our state legislative agenda, but we also keep our eye on other pending legislation. Traditionally during the second year of a legislative session, which this is, only appropriations bills and proposals with significant importance to a legislator's district and/or the state are considered; there is a much narrower focus with fewer bills filed than there is in the first year. That said, it is an election year so there may be more appetite for legislators to take action. To date, no new bills have been referred to committee for 2020. As any are filed and/or referred, ILA's Public Policy Committee will review them for impact to libraries.

Directors, take note! From Library Days and Dates to Remember 2019-2020: January 31 is the last day for filing annual Certificate of Status of Real Estate, a prerequisite to obtaining exemption of library real estate from real estate taxes. February 1 is the last day to prepare and send to County Clerk in which principal office is located, the alphabetical list of those required to file Statement of Economic Interests with addresses. This planning and calendaring resource is always available to you on the Advocacy section of the ILA website.

On the federal level, ILA Executive Director Diane Foote participated in a U.S. Congress working group meeting convened today by staff from Senator Tammy Duckworth's and Representative Bill Foster's (IL-11) offices regarding the upcoming 2020 Census. Legislative staff from the following Congressional offices discussed ways they could help drive a complete count in Illinois: Senators Duckworth and Durbin, and Representatives Bustos, Casten, D. Davis, Foster, Garcia, Kelly, Krishnamoorthi, Lipinski, Quigley, Rush, Schakowsky, Schneider, and Underwood; along with U.S. Census Bureau Chicago Region Director Marilyn Sanders. Representatives from Forefront, MALDEF, and the Illinois Muslim Civic Coalition along with ILA reported out on what their constituencies were doing, and what might be needed from our federal elected officials, to advance the count. We were pleased to be able to position libraries as key to the effort, recounting the work so many of our members have been doing already, such as enabling recruitment of Census workers, extensive communications to let patrons know the importance of the Census, plans to dedicate terminals and other devices to Census respondents regardless of library card status, combating misinformation about the Census, and so much more. We thanked our Representatives and Senators for keeping libraries top-of-mind in this effort and encouraged them to consider us key partners in e-governance and to participate in Census-related library events and library-focused outreach.

Want to help advocate on the federal level? Join the Illinois delegation to ALA's National Library Legislative Day, May 4-5, 2020. Illinois traditionally has one of the largest contingents, and registration is limited this year, so don't wait.