Making our voices heard in Washington, D.C.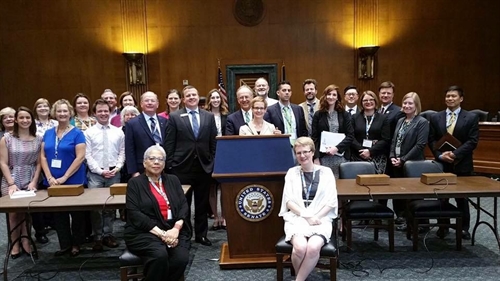 Join ILA's delegation to travel to the nation's capitol and get our message out to Congress! ALA's National Library Legislative Day (NLLD) is a two-day educational event that brings hundreds of librarians, trustees, library supporters and patrons to Washington, D.C. Illinois has traditionally delivered one of the most robust delegations and we expect to do so again this year.
National Library Legislative Day 2018 takes place May 7-8, 2018
Monday May 7
ALA Briefing Day, Liaison Capitol Hill, 425 New Jersey Ave. NW, Washington, DC 20001. This full day (8:00 a.m. registration; 9:00 a.m.-3:30 p.m. program) includes briefings on key issues as well as advocacy training for congressional visits and an opportunity for state delegations to meet. 
Congressional reception on Capitol Hill (location TBA), 5:30-7:00 p.m.
Illinois Library Association dinner at the Capitol Hill Club, 300 First St. SE, Washington, DC 20003. This optional, separately ticketed event offers networking and socializing opportunities for the Illinois delegation and friends. 6:30 cocktails, 7:30 dinner. Speaker: Melika Carroll, Senior VP for Global Government Affairs, Internet Association. The Internet Association advocates legislatively on behalf of its members, including in support of net neutrality protections. We will host a fireside chat with Ms. Carroll about IA's multi-pronged approach to net neutrality and how it aligns with the interests of libraries and librarians. 
Tuesday May 8
Congressional visits with scheduled appointments from 9:00 a.m.-3:00 p.m.
Registration
NLLD registration ($75) is handled through ALA. Illinois librarians will automatically be counted as part of the Illinois delegation. Your registration fee includes legislative materials, Monday' briefing sessions and Congressional Reception, organized by ALA's National Library Legislative Day Committee; and Tuesday's Congressional visits, organized by ILA. REGISTRATION FOR NLLD IS NOW CLOSED.
Monday dinner registration ($50 for ILA members; $60 for non-members) is handled through ILA.  Please email tina@ila.org to register. 
Housing
Attendees are responsible for their own hotel reservations. ALA has reserved a block of rooms at the Liaison Capitol Hill (the same location as Monday's briefing events), 415 New Jersey Ave., Washington, DC 20001. 
Hotel registration is now open. You can

 

book online (use group name: National Library Legislative Day 2018 and the code ALAMAY to receive the discounted rate) or call toll-free: 1-888-513-7445.
Please Note: If you are planning on booking nights outside of our room block, you must book the additional nights separately in order to take advantage of the discount.
To receive the discounted rate, please register by April 13, 2018.
What is National Library Legislative Day?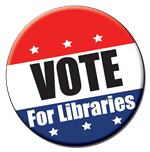 A two-day advocacy event where hundreds of library supporters, leaders and patrons gather in Washington, D.C. to meet with their members of Congress to champion national library funding. National Library Legislative Day also includes a virtual advocacy component for library supporters who cannot attend the Washington meetings—advocates have the option to work remotely to connect with legislators via phone calls, text messages, emails and social media platforms.
This is an opportunity for all Illinois librarians and library supporters to join together and make their voices heard on a national level. The National Library Legislative Day is usually held during April or May so watch for announcements from ILA. You can also check American Library Association website for the date so you can mark your calendar.
The American Library Association, Chief Officers of State Library Agencies and the District of Columbia Library Association sponsor National Library Legislative Day.
Download the National Library Legislative Day Info Guide PDF