2019 Reaching Forward Scholarship Recipients Announced
April 19, 2019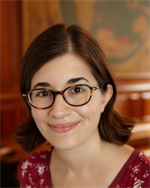 Lizzy Boden, a native of  River Forest, Illinois, is currently an Adult Services Librarian at the North Riverside Public Library. She received her BA in History from DePaul University and her MSLIS from the University of Illinois – Urbana-Champaign. She is a member of ALA and is becoming increasingly involved in various RAILS networking groups.

Boden's all-time-most-favorite-ever book is Good Omens by Terry Pratchett and Neil Gaiman. Outside of being a librarian, her hobbies include travel (she spent a year in New Zealand prior to attending library school), yoga, seeing live theater, and cross-stitch.

This will be Boden's first time attending the ILA Annual Conference, and she is looking forward to meeting colleagues from around the state, attending sessions (particularly on programming and collection development), and visiting the exhibits.

Boden will be presenting at this year's ILA Annual on Mini-Grants for Library Staff Members. Boden said she is honored to win the Robert P. Doyle ILA Conference Grant for Support Staff Award and sends her thanks to all her colleagues.

___________________________________________

Jessica Baker, a native of Carterville, Illinois, is currently a Program and Social Media Coordinator at the O'Fallon Public Library.

She previously majored in Paralegal Studies at Southern Illinois University Carbondale and will be pursuing a BA in Public Relations – Digital Media Management, with a minor in Organizational Communication at McKendree University in Lebanon, Il this fall. She will also be working in the campus library. 

Her hobbies vary from antiquing, visiting confectionaries, taking care of her rescue pets, and visiting her favorite theme park every summer, Holiday World. Her tastes in literature are just as varied; she has no favorite genre, only favorite books.

This will be her first Reaching Forward Conference, she previously attended the 2018 ILA Annual Conference, when the O'Fallon Public Library won the Intellectual Freedom Award.

Because of her dedication to constantly improving and creating programs at her library, Baker's favorite part of the conference is not only attending the fascinating presentations ILA offers, but gaining insight from the question and answer portion at the end of each presentation.