Member Spotlight: Sam Suber
October 2, 2017
Krista Bowers Sharpe
Western Illinois University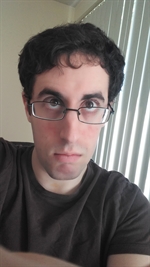 Describe yourself in three words.
Reliable, perceptive, persistent.
What is your current professional position, and what do you like best about it?
I am currently the Electronic Resources Coordinator at the Moraine Valley Community College Library. What I like best about the position is the variety of work. I do not have a normal day. Right now, I am juggling responsibilities entailing electronic resources and print serial management, inventory, government documents, budgeting and purchasing, and assessment.
If you could use one word to describe librarianship today, what would that be?
Compassionate
What are you reading (or listening) to right now?
I am reading through the Starcraft pocket novels (Starcraft: Ghost–Spectres for this month). I am always interested in the lore of my favorite videogames!
If you had a year off with pay, what would you do?
I would definitely run more distance events (half marathons, 5k's, etc.). I'd figure that, since I would have so much free time, I could devote more time to my hobbies (running!). Assuming unlimited cash flow, as well, I would travel, too. I would visit Europe and explore Belgium and Sweden, to taste their awesome food and walk their beautiful streets!