4 Questions with Lian Ruan, Illinois Academic Librarian of the Year
August 4, 2017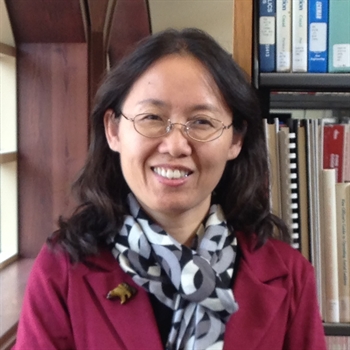 Dr. Lian Ruan is the 2017 recipient of the Illinois Library Association (ILA) Illinois Academic Librarian of the Year Award. Ruan is past President (2015-2016) and current Executive Director of the Chinese American Librarians Association (CALA). Since 1999, she has been Head of the Illinois Fire Service Institute Library. She was gracious enough to answer a few of our questions about the award and her career.
IACRL: Congratulations on your award as ILA Academic Librarian of the Year! What was your reaction to being selected?
Lian Ruan: I was humbled and honored to hear the news. I wanted to thank the nominator and the Committee for selecting me. I was also very thankful and grateful for many people who have helped me get where I am right now.
IACRL: Under your leadership, the Illinois Fire Service Institute Library has won many accolades. What's something the library has done that you're especially proud of?
LR: We are the only fire science dedicated library in Illinois and one of the top three fire academy libraries in the nation. I'm especially proud of quite a few things. One is our new library building, as I still value the importance of the physical building to meet users' needs in multiple ways. My library team and I participated in the design, construction and dedication (in 2011) of the $9-million Learning Resource and Research Center (LRRC) building that includes a permanent home for the library and archives, an international conference center with simultaneous interpretation booths, research laboratories, emergency management training and command center, and state-of-the-art IT facilities. I am especially proud of the new library because I see more firefighters coming in to use it for different purposes, such as using the computers/Internet, accessing library materials in digital, audio and print format, interacting with the reference librarian and archivist, requesting interlibrary loans through their local public libraries, conducting meetings in the library meeting room, and attending special events (for example, the annual book sale during Fire College and vendor sale during Winter Fire School). My team and I are very pleased that the library has furthered the Institute's mission to help every Illinois firefighter through education, training, research, and information.
IACRL: You edited and contributed to a recent book about academic library administration in China. What's one thing about Chinese libraries that might surprise people?
LR: The rapid development of Chinese academic libraries in recent years. Many universities have built a big and beautiful library building with state-of-art technology in the center of a new university campus. It seems that the usage of the library space continues to increase. Chinese academic librarians pay close attention to the trends of academic libraries in the United States. They are interested in scholarly exchange with American librarians.
IACRL: You've been very involved in many different types of library organizations during your career. Everyone reading this will know about the big name library organizations. What's one lesser known library organization or conference that you'd encourage people to get involved with and what role has it played in your own career?
LR: The Annual Conference of the Library Society of China (LSC) and the Chinese Library Exhibition. I attended this annual conference in 2015 and 2016 as a member of the Chinese American Librarians Association (CALA) delegation and joined the CALA's Academic Session during the conference. The 2016 conference theme was "Innovative China: Technology, Society and Library" and the CALA's Academic Session was entitled "Innovative Services and Technology in U.S. Academic Libraries." Many Chinese librarians participated in the CALA's Academic Session and asked interesting questions. I wish more American librarians could join CALA to present at the conference and gain a better understanding about China's libraries and librarians. The conference has opened my eyes. I learned greatly from Chinese librarians. I brought new ideas back to my library to share with my colleagues and improve library services. I also found collaborators and partners in projects with shared interest. Currently, I'm working with Xingye Du, Managing Editor, National Science Library, Chinese Academy of Sciences, on a special issue for the IGI International Journal of Library and Information Services about transforming China libraries through innovative user-centered services.