IACRL Member Spotlight: April Hummons
March 15, 2023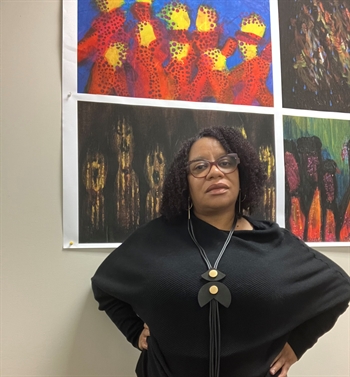 April Hummons, Information Technology Librarian at DePaul University
Interviewed by Kim Tipton, McHenry County College
April Hummons is the Information Technology Librarian at the John T. Richardson Library at DePaul University in Chicago. In our interview, April shares with us her journey through librarianship and how she supports her students both in and out of the library.
Tell us a little about your background and how you came to be an Information Technology Librarian. 
A little bit about my background: I have worked in academic libraries for over 20 years. I hold a MS in Cinema Production along with my MLIS from Dominican University. I am a proud 2016 ALA Spectrum Scholar. My first library job was at the Harold Washington branch of the Chicago Public Library.
When I started at DePaul I was looking for an on-campus job and the Career Center staff told me to apply for a student worker position at the Rinn Law Library because I had library experience. That was the beginning of my career at DePaul University. Truth be told, I never thought I would be a librarian, but I do remember the impact that the library had on me as a child and teenager.
I finished my graduate degree in Cinema Production several years before going to library school. I really did not consider going to library school and pursuing my MLIS because there was no encouragement, but more so I did not see many people who look like me working as librarians. The overwhelming majority of the BIPOC staff I encountered were professional staff (non-librarians). The field lacks diversity, and I can say from experience that representation matters. My sister, Heather Hummons, who decided to take the lead and complete her MLIS was encouraged by her manager, Allen Moye, the Director of the Rinn Law Library. He's also African American and understood the importance of diversifying the field. I did not have the luxury of my supervisor encouraging me to attend library school. My sister is the one who pushed me to go to library school. I did have a wonderful mentor, Lori Murphy, the now retired Head of Cataloging at DePaul University Library.
While in library school I received my certification in Data and Knowledge Management. I did not know at that time what type of librarian I planned to be. I have a unique skill set and a wide range of experience including space planning, cataloging, system administration, data analysis and visualization, film and media production, and web design, to name a few. I also used the MLIS program to add to that skill set, and took classes on system design, metadata, operating systems, and networks, along with courses on integrating technology into services and instruction. Honestly, I did not think that I would end up with a position that would utilize most of my skill set while enabling me to build and learn additional skills, but my current position as the Information Technology Librarian allows me to do that. When I applied for the Information Technology Librarian position, I knew I was coming to the table with a wealth of experience in Access Services, but also my experience with system administration, plus the fact that I had been through two migrations prior to the CARLI migration to Alma/Primo. I had maintained some of the previous duties of the library's original systems librarian that were parsed out to staff after their departure. I also had the background necessary to manage the media studios in a way that could really increase their usage. When I took on the role of Information Technology Librarian, I was only lacking in experience with the makerspace, but as a formally trained artist and craftsperson I picked it up quickly. I like to tinker, and tinkering is the whole idea behind the Maker movement.
Your liaison areas are quite varied! How do you support your students in those areas?
Although my liaison areas are quite varied, the central theme to any instruction and support for students is utilizing existing library resources. I have had situations where I have computer science students and I'm doing research on digital nudging and helping with systematic reviews. I might have to provide instruction for a non-major FILM class with a demonstration of the media studios. I may simply need to teach a game design class how to use library resources. Again the overall theme with all these scenarios is that I am here to provide a bridge to library resources. Those library resources can be physical materials, online materials, other librarians, our space, or making a connection between a student and another faculty member or another department. Sometimes my liaison work is just as simple as me reaching out and letting a faculty member know, "We have the required textbook for your course, here is the permalink."
Sometimes I work outside of my liaison area because the library is for all. For example, the library has various types of Wacom tablets, which of course are used by our students in Animation and Game Design classes, but they are also a tool that is used by students in the Art Media and Design program. I reached out and let the Art department know that these tools are available for their students as well and that we also have several that can be checked out and taken home. DePaul has a large commuter student population, and some students may not want to sit in the library all night to work on homework, but they need this tool to complete their homework. Being able to check out that kind of technology is a valuable resource to them, but they need to know that it is available.
The best way to reach students I found is through the faculty. If you want students to know about a resource, reach out to the faculty that may have an interest in using that resource or the specific department and let them know about the resource. Faculty have access to more students than we as librarians ever will. Using faculty as leverage to increase utilization of existing library resources is good practice for any librarian.
Another way that I support students is meeting students where they are at, especially students that traditionally may not use the library. I spend a lot of time going over to our identity centers which support our students who are BIPOC, queer or identify as disabled or neurodiverse. Reaching out to the center directors is good practice. Also popping in and meeting the students that use those centers and telling them, "Hey, we are from the library, this is what we can do for you. Here is my card. How can I help you?" is a wonderful way to build that relationship between students and the center staff and the library. One of the things that we did recently was with the Black Cultural Center at DePaul. We donated a bunch of advanced reader copy books for Trick or Reads as part of their Halloween program. A book cart full of free books was a start to those little conversations where you can reach out to students and be like, "And what else do you all need?".
Tell us about Studio G, Richardson Library's media production space. What has student response been like to having a space that encourages them to be content creators (for academic purposes or for fun)? 
Studio G is a media production space that provides users with a Place for audio and video production and photography. The room includes a green screen stage with 14 lights permanently mounted on the ceiling that are controlled by a console. We recently partnered with our Center for Teaching and Learning to also start offering virtual reality training in the space. Many of the students that used this space early on were students from our College of Computing and Digital Media, specifically students from the School of Cinematic Arts (SCA), students who majored in animation film and television production, game design, and some art majors.
The media studios are equipped with specialty software like ProTools that is not available in our open lab's computers within the library. The media studios also have MIDI devices where the students can plug in microphones or their instruments to record. Students can check out DSLR cameras and tripods to use in the studios.
We have a broad range of students that utilize the studio, not just those in our film program. Prior to the pandemic a group of students were recording their Hip Hop album in Studio G. After the return to campus, our primary population of media studio users are students who do not have access to this kind of space but are interested in creating content using the studios. Students even use the media studios to take Zoom classes. The important thing about that space is that it is available to all of our student population, faculty, and staff.
What about your work as an Information Technology Librarian are you most proud of?
In my work as an Information Technology Librarian, there are three things I am most proud of: my ability to problem solve, my ability to provide access to library resources, and my commitment to diversity, equity, and inclusion.
Strangely enough, one of my first accomplishments as the Information Technology Library was getting our Glowforge laser cutter online for use. The machine cost well over $5000 and had not been in operation since the Maker Hub was opened in 2017. The problem with getting the machine online turned out to be needing a Mac address. However, the device could only connect to wireless, but it cannot go on the university's wireless network without the Mac address. My solution was to connect the device to my portable hotspot to obtain the Mac address information. This is a relatively simple solution that no one before me had thought to try. This simple solution allowed us to get the device online and available for use by our patrons.
In my role, I am proud of the work I do to provide access to library resources to our users. whether that is from working with staff on configuration and system administration processes or providing access, training, and instruction for the media studios.
I am also a champion and practitioner of action-based Inclusion, Diversity, Equity and Accessibility (IDEA) work. One of my current projects is the BIPOC Cataloging project. The BIPOC Cataloging Project was started in late 2020 under the leadership of my sister, Heather Hummons, the Access Services Coordinator, who reached out and formed a working group of African American librarians at the DePaul University Library. The goal of the BIPOC Cataloging Project is to investigate and implement ways to decolonize the library catalog. One of the many initiatives of the BIPOC Cataloging project is the Voices Collections. We are utilizing the Collection Discovery tool in Primo VE to provide access to library resources created by members of marginalized communities. Our first collection was the African American Voices Collection, which was launched one year ago in February of 2022. We have come full circle this year for Black History Month by launching the Voices of the African Diaspora Collection. In addition to those Voices collections, we also have APIDA, Disabled and Neurodiverse, Indigenous, Latinx, and LGBTQIA+ Voices collections.
What are some library technology trends you're seeing right now? 
Some of the library trends that I am seeing right now are Open Access, Digital Libraries, Artificial Intelligence, and Data Privacy. Open Access and Digital Libraries are more than trends; they are technology issues for libraries. The COVID-19 pandemic, the racial reckoning of 2020 after the murder of George Floyd and then the January 6 riots highlighted the digital divide and the inequity in people's access to technology and trustworthy information. We need more (open) digital libraries to provide people with access to online collections. Digital libraries are more than the ability to access materials online; it is about having the right to digitize physical collections for accessibility purposes beyond the terms of ADA.
Librarians have pushed Open Access for years to escape the cost models of big publishers. The future of libraries to sustain current collections is going to be exceedingly difficult in this scholarly publication landscape without Open Access. I also see Open Access as a solution to misinformation. Curated trusted resources cost money and that becomes an equity issue for those who cannot afford the cost. Meanwhile, misinformation is often free and readily available to the public. As librarians, we not only organize information, but we also provide users with access to that information and teach them the information literacy skills to decipher between trusted information and opinions that are peddled to the public as facts. In academic libraries, we continue to push faculty to consider Open Textbooks and library resources to reduce students' overall cost of attendance at higher education institutions. My background in data and knowledge management pushed me towards Open Access because of the need to preserve knowledge and transfer knowledge, but also without access to knowledge we cannot create new knowledge.
Libraries are using Artificial Intelligence (AI) to automate cataloging and to provide personalized recommendations to users. Artificial Intelligence and Natural Language Processing (NLP) are showing the world amazing things that can be done using machine learning. We use related reading plugins in our catalog to help users find related materials, a form of AI. This is all made possible by NLP which can analyze user queries and understand the intent behind them. Since the AI is always learning, it can help libraries provide more accurate search results and recommendations for users. Artificial Intelligence is also being used to analyze user behavior and to improve the user experience. This is where we tread into the data privacy issue. The AI used for NLP is dependent on user data including search history, reading history, and personal preferences to generate these book recommendations. The collection of this data must be made transparent to users. As libraries move forward with AI technology, we must balance improving user experience while maintaining user privacy and the security of their personal information.
As an academic librarian, Artificial Intelligence is a technology trend that I continue to monitor because of its application in post-secondary education. Currently I am interested in AI-generated text and AI-generated art. These are valuable tools for learning, but there is also the risk of the tools being used for plagiarism. As librarians, we must be concerned with the source of information provided by AI-generated text. AI-generated art is poised to become the next intellectual property issue as these images are often drawn from existing images on the web. I look forward to seeing If there will be changes in copyright laws as AI-generated images and text become more popular and mainstream. 
What do you enjoy doing in your free time?
In my free time I am a practicing artist. I paint and I work with mixed media. I also create digital art from my paintings and photographs. If I am not creating art, I spend time with my family, which is my wonderful daughter, my parents, and my sister, who is my best friend. I take care of a colony of feral cats. In addition I do a lot of research on the intersection between race and visual culture. I am a fan of global Horror cinema, Nollywood movies, and Asian dramas (particularly K-dramas, Chinese period pieces, and Taiwanese soap operas).