Message from the IACRL President: Dan Matthews
March 15, 2023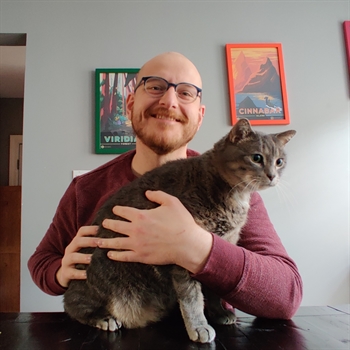 Dan Matthews, Moraine Valley Community College
Happy Spring, IACRL!
By the time this is sent out, it'll be the end of March, and we'll already be thinking about wrapping up the semester. I know I'm currently looking forward to some warmer temperatures and summer work speed. I hope everyone is able to reflect on the work they put into the academic year and simultaneously find room to grow and celebrate the accomplishments.
Voting for the 2023-2024 IACRL Executive leadership is happening in April, and I hope you'll all take the time to vote.
The OER Campus Kickstart award is still open for applications. If anyone you know is working toward implementing Open Educational Resources programs on their campus, this award may be a good fit. Faculty and Librarian teams will be awarded $500 to use however they see fit in developing OER for courses in the upcoming 2023-2024 academic year. Apply using this form.
We had a great showing at ILA this year. I keep returning to Tony Dunbar's presentation at our luncheon, and am happy he was able to speak with us. There were lots of good programs at the conference, and I'm energized by all of the good things librarians are up to. Every year I've attended ILA Annual, I've learned something new and gained a broader perspective to apply to the work I do. The feedback I hear from other academic librarians that attend is that they wish there were more academic library focused sessions. If you are considering a presentation, I encourage you to submit a proposal to present at the 2023 ILA Annual Conference. People want to hear from you!  Proposals are due April 4th.
As we put a close on the year, keep informed about the IACRL summer programming via our email list, Facebook, and Twitter.  We'll also be ramping up in the fall with news of events for the upcoming year. I hope the semester smoothly transitions into summer for all of you.