Legislative Update -- March 9, 2023
March 9, 2023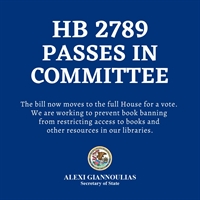 A special legislative update was sent out on Tuesday, March 7 with information about House Bill 2789 (HB 2789). 
The email explained that under HB 2789, Illinois libraries would only be eligible for state funding grants – issued by the Secretary of State's office – if they: 1) demonstrate adherence to the American Library Association's Library Bill of Rights that indicates reading materials should not be removed or restricted because of partisan or personal disapproval; or 2) issue a statement complying with the policies of the State Library or one prohibiting the practice of banning books or resources. If approved, HB 2789 would take effect January 1, 2024. 
ILA, along with AISLE, Illinois Federation of Teachers, and NAACP-Springfield, support the bill and urged the Illinois library community to take action in support of HB 2789. Thank you to the more than 800 library advocates who submitted witness slips in support of the bill. 
We are happy to inform you that HB 2789 has passed its committee. Now the bill goes to the House for a vote. Thanks to everyone who contributed to this effort, and we will keep you updated as HB 2789 moves forward.