Member Spotlight - Andrea Lublink
March 13, 2023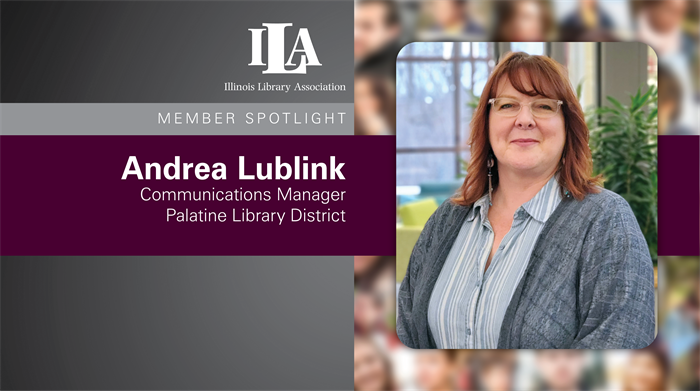 This week's member spotlight is on Andrea Lublink. Andrea is the communications manager at the Palatine Library District and a member of the ILA Marketing Forum. 
We asked Andrea to tell us a little about herself and answer a few professional and amusing questions. Continue reading to find out more about Andrea.
A little background on Andrea
My degree in Communications Design helped me start out as a Graphic Artist and was the backbone of developing my skillset as a communications manager. Working in a public library has taught me so much about connecting with the community and how to share the immense value of the resources we offer. I am passionate about making people connect those dots and seeing the real-life impact on a local level. When I get the chance to sit in on storytime, I can't help but think about those folks who might be missing out on something as simple as having a librarian read out loud to their children. To see their smiling faces light up and begin to build that love of reading at an early age is priceless! 
How did you get your start in libraries?
My career at Palatine Library spans 24 years! Previously, I worked as a graphic artist for several printing companies and wanted something more exciting and purposeful. When I saw a job opening at Palatine Library for a part-time graphic artist, I had to apply. I grew up in Palatine and loved its hometown feel. Furthermore, my mother was the graphic artist at Barrington Area Library for many years and retired from there. I remember thinking that a library would be such a fantastic place to work and be creative! So I was thrilled to be hired and eventually became full-time staff. Now, I am blessed to lead an awesome communications department with four full-time staff members including myself.
Best advice you've received since starting your career in libraries?
Customer service and marketing are closely related. Whenever you are working with the public, look for opportunities to spread the message about how great the library is and back it up with excellent service! Remember we are here to serve the community, and even though that can be difficult at times, a great interaction with a patron goes a long way.
When and why did you become a member of ILA?
ILA is great resource and a place to get connected and learn from one of the most prominent organizations that supports libraries and staff. I've been a member of ILA through my library since I started working at Palatine Library. I was interested in becoming a board member when the ILA Marketing Forum group formed in 2016 and became a personal member.
How has being a member of ILA helped you professionally? 
Being a member has put me in touch with a great network of other library communications and marketing professionals that share ideas and goals. I've met so many insightful and professional people that I have gained so much valuable information and ideas that I've used to help shape our marketing plans and campaigns.
What is your proudest professional achievement to date?
In April 2019, the Board of Palatine Library added a referendum to the voters to increase our operating budget and it passed by a 64% vote! We spent the year before planning, preparing, and creating clear messages to our community about what our needs were and why we were asking for a tax increase. It was a monumental effort being consistent and using all the tools in our marketing toolkit to get the message out. I won the 2019 Library Journal Marketer of the Year award, with two staff from our communications department, in recognition of all our hard work and successful campaign.
Hardcover, paperback, e-reader, audiobook, or all?
E-reader most of the time. I enjoy the ease of reading from my phone or tablet and how mobile that is. Occasionally, I will browse the shelves at my library and find a print book that catches my attention.

Favorite author?
When you read so much, it's hard to pick just one favorite! I have loved books by Christian author Francine Rivers. I am also a big fantasy/science fiction fan, so I will read anything from Sarah J. Maas, Lynn Kurland, Hugh Howey, and Katherine Arden. However, my all-time favorite science fiction writer is Stephen R. Donaldson who wrote The Chronicles of Thomas Covenant series. You can check out my Goodreads book list.

If you were stuck on a deserted island, what five books would you bring with you to pass the time until being rescued?
The Bible, Wool Omnibus by Hugh Howey, The Red Tent by Anita Diamant, and the Blood and Ash trilogy by Jennifer L. Armentrout. 
Cat or Dog?
We have a Pitbull-mastiff mix dog who is one year old. Her name is Maja, and she is super loving and fun to have around. We used to have cats and an odd assortment of reptiles, but now we are just dog owners.
Favorite film, podcast, or television show?
Something Was Wrong and Oligies are the two podcasts I've been interested in lately. The Yellowstone series, along with 1883 and 1923 are amazing!

One person you would like to meet, dead or alive why?
Mother Theresa – I think it would be interesting to listen to her words of wisdom and understand how a life of sacrifice has impacted so many others.