Member Spotlight - Anjelica Rufus-Barnes
July 25, 2022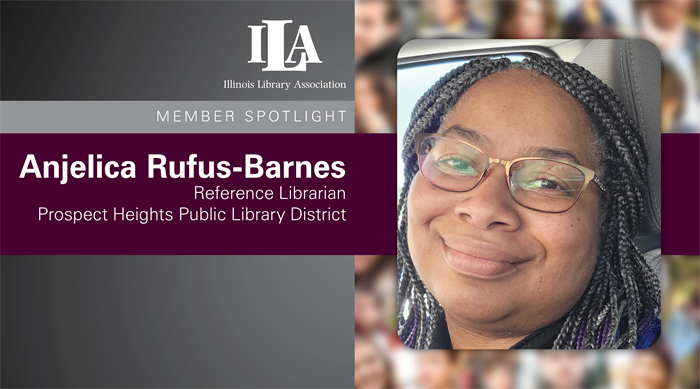 This week's member spotlight is on Anjelica Rufus-Barnes. Anjelica is a reference librarian at the Prospect Heights Public Library District and is a member of the ILA Students and New Professionals Forum. 
We asked Anjelica to tell us a little bit about herself and answer a few professional and amusing questions. Continue reading to find out more about Anjelica. 
A little background on Anjelica
I was born and raised in Chicago where as a child, I took the bus and the  'L' to visit the library with my mom and siblings. Later, we moved to the Logan Square area and walked almost a mile to the nearest one. I was (and still am) an avid reader and read close to 100 books for the summer reading program when I was 13. 
Once upon a time, I wanted to be a writer or a book editor. My high school counselor suggested that I go into journalism instead. After several false starts, I received a BA in it from Roosevelt University. I enjoyed investigating stories and writing them, however life happened and journalism was no longer a feasible career. So, here I am!
How did you get your start in libraries?
Libraries were my bag when I was younger. It was a place of knowledge and the books were an escape from reality. On my birthday in 2014, I woke up wanting to do something more fulfilling than office work and debt collecting. That day, there was an article in the Chicago Tribune's career section about the library field. I thought, "Yes!  I could do that and help people!" Basically, I had vocational awe before I even researched library schools and decided on Dominican University.
However, what really sold me on librarianship was when I began a summer internship/graduate student volunteer work at Oak Park Public Library. I received hands-on training on material selection and collection development. What was supposed to be a two-month stint became a two-and-a-half year one.
Best advice you've received since starting your career in libraries?
"Don't let anyone put shade on your shine."  A fellow Spectrum Scholar told this to me a few years ago when I was anxious about a setback. I have interpreted this advice two ways: 1) Just because you receive a negative response to a project you're working on, doesn't always mean the project itself was bad. 2) Don't let other people take credit for your brilliance.
Any advice to newcomers working in libraries?
Ask questions and get things confirmed in writing to avoid miscommunications. Also, saying yes is cool and all, but sometimes you have to say no. If a person pretends to not hear or dismisses your no, say hell no!
When and why did you become a member of ILA?
Shortly after I was accepted into Dominican, I went to ALA's website, became a member, and then pondered whether there was a local version of it. Once I found ILA's information, I became a student member. I did it at the time to stay up to date on the latest library news in the state.
How has being a member of ILA helped you professionally?
ILA has since become a place where I could hone skills at committees and forums that, not until recently, I was able to implement at work. I also get to meet and network with people from all over the state, and we all bounce ideas off each other.
What is your proudest professional achievement to date?
The Career Pathway Talk Series (through the ILA Students and New Professionals Forum) is my baby. I raised it from an idea that I suggested at SANP's third meeting ever to a webinar series that just completed its second year. I am extremely proud of the work that I and the SANP members have done to-date. 
Hardcover, paperback, e-reader, audiobook, or all?
Audiobooks, narf! They're like TV with the visuals within my imagination. However, if it's a graphic novel or manga, I will accept print or digital.
Favorite author?
I have a few who I am fond of reading: Jason Reynolds, Adam Silvera, David Levithan and Talia Hibbert. I have been digging the recent work from Silvia Moreno-Garcia and Emily Henry as well.
If you were stuck on a deserted island, what five books would you bring with you to pass the time until being rescued?
When I Was the Greatest by Jason Reynolds, narrated by JB Adkins

Red, White & Royal Blue by Casey McQuiston, narrated by Ramon de Ocampo

Boyfriend Material by Alexis Hall, narrated by Joe Jameson (I am so excited for the sequel coming out in August!)

People We Meet on Vacation by Emily Henry, narrated by Julia Whelan

Get a Life, Chloe Brown by Talia Hibbert, narrated by Adjoa Andoh
Cat or Dog?
Yes. 
Favorite film, podcast, or television show?
The Princess Bride never gets old for me. I first saw it when I was little and liked the adventure. Now it's for the jokes.
One person you would like to meet, dead or alive why?
Jim Henson so I could thank him for creating Sesame Street and The Muppets. His programs were an integral part of my childhood.