Member Spotlight - Heidi Knuth
August 22, 2022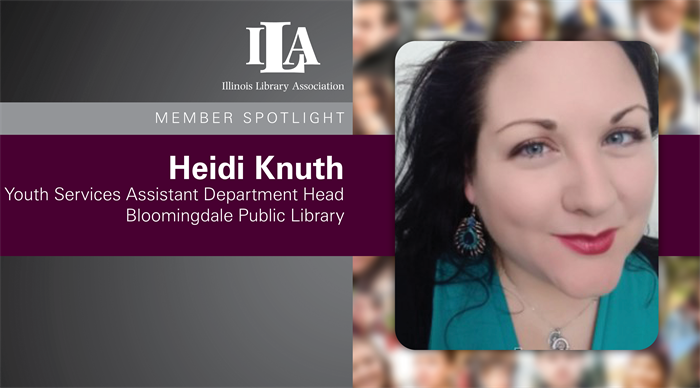 This week's member spotlight is on Heidi Knuth. Heidi is the assistant department head for youth services at Bloomingdale Public Library. She is a former co-chair of the 2022 ILA Conference Program Committee, a former member of the ILA Intellectual Freedom Committee and the ILA Youth Services Forum, and a former manager of the Reaching Forward Forum. 
We asked Heidi to tell us a little bit about herself and answer a few professional and amusing questions. Continue reading to find out more about Heidi. 
A little background on Heidi
My mom taught me to read before kindergarten and it has opened the world and shaped my life more than anything else. Before we had air conditioning, the library was a refuge as well as a resource, and I'd often hang out there before/after little league games & practices (or during, if it was one of my brothers' teams and not mine!). I was homeschooled from 3rd grade through high school, and love getting people excited about the things you can learn at or through the library. I'm constantly fascinated by the other kinds of librarianship and library-adjacent work out there and wish I had more lifetimes to try different things!
How did you get your start in libraries?
I played library as a kid, was gently teased about it by librarians as a tween, and our local librarian slid an application at me when I turned 16, so...I guess I've always been here? Truly though, I started as a page at 16, stayed on and worked a bunch of different jobs at that library as I commuted through college, got a full time job in libraries instead of teaching, and was encouraged to consider grad school by my director. I remember being inspired by a quote from the dean of the library school and calling my mother while driving home from the open house to tell her I had found exactly where I belonged (surprising absolutely no one).
Best advice you've received since starting your career in libraries?
Either the suggestion that I look for library jobs instead of teaching ones when I graduated, or the encouragement to check out grad school. There are too many good advice quotes from so many mentors… I can't remember them all, but they come to me when I need them!
Any advice to newcomers working in libraries?
Join a committee! Join multiple committees! You will meet incredible colleagues, do meaningful work, shake up your routine and your workday, become a better librarian, open doors to new opportunities...and did I mention meeting incredible colleagues? There are so many options for all different interests. I also have to mention that my career would not be what it is today without joining the Reaching Forward committee all those years ago.
When and why did you become a member of ILA?
I had to check—the website says I  joined in 2009 and it probably had something to do with Reaching Forward or a student discount—don't remember, but it was one of the best choices of my career.
What is your proudest professional achievement to date?
I don't think of it as an achievement, but a privilege built on just showing up and saying yes and doing whatever was asked—my favorite thing is that people I used to see as unreachable heroes have become colleagues and friends.
Hardcover, paperback, e-reader, audiobook, or all?
Whatever I've got, & whatever fits the situation. E-reader on my phone while I'm waiting places, paperback in the bath, and audiobooks for driving. Cereal boxes, billboards, and signage when that's all there is—information is all around!
Favorite author?
*twenty minutes of agonized deliberation later* sorry, what was the question? I love Erik Larson and Kate Morton—very different genres and both authors that take YEARS between books, so I read lots of nonfiction while waiting and am trying to get through classics I missed in high school/college.
If you were stuck on a deserted island, what five books would you bring with you to pass the time until being rescued?
Ok, since these are JUST to pass the time, I won't pick survival ones ;-)
Liturgy of the Hours
A complete Renaissance lit anthology (is this cheating? Do I care?)
Anne of Green Gables box set
A really big crossword puzzle book
A blank book and lots of pencils
Cat or Dog?
Bird :-)  I have an adopted conure and a friend painted me this quote from Mark Twain "She was not quite what you would call refined. She was not quite what you would call unrefined. She was the kind of person that keeps a parrot." I love dogs but am gone too much, and I'm allergic to cats! I have several friends' cats that are my buddies (shoutout to Pippin & Mulder!), but can't live with them, sadly.
Favorite film, podcast, or television show?
I love shows that can teach me new things, and as a baker, there will never be enough seasons of GBBO to satisfy me (I've tried the other baking shows and they're all just...not as good.) I'm a huge fan of classic films from Hollywood's golden age as well as lots of different sci-fi series, and love a good war/spy movie.
One person you would like to meet, dead or alive why?
One of my ancestors—though I haven't decided which one yet! Genealogy & history are passions of mine & there are just so many unanswered questions and lived experiences I know nothing about, but that resulted in me being here & being who I am. Plus, I think it would be hilariously fun to suddenly be best buds with a great grandmother 12 generations back or a distant great uncle. I found an old newspaper clipping—using library resources—about a great aunt who entered baking contests in the early 1900s and it delights me to this day.