Member Spotlight - Lizzy Boden
May 2, 2022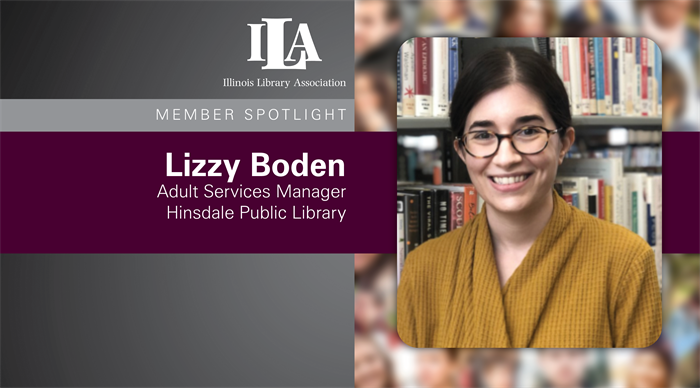 This week's member spotlight is on Lizzy Boden. We asked Lizzy to tell us a little bit about herself and to answer a few professional and amusing questions. Continue reading to find out more about Lizzy. 
A little background on Lizzy 
Lizzy Boden is the Adult Services Manager at the Hinsdale Public Library. Prior to that she worked at North Riverside Public Library & was a graduate assistant at UIUC. She was named an ALA Emerging Leader in 2020 and currently serves as the Member Services Director of the ALA New Members Round Table (NMRT). Lizzy is also a member of the ILA Awards Committee. When she's not working, she enjoys spending time with her nieces and nephews and traveling. 
How did you get into libraries?
My first ever job was at the River Forest Library when I was 16. I was a page in the children's section there. So really, I've always been in libraries!
Best advice you've received since starting your career in libraries?
"It's not about the books." It is, a bit – of course librarianship is about books and information – but really, librarianship is about people. I think you have to really enjoy working with people to enjoy being a librarian. (At least in the areas of librarianship I have worked in.)
Any advice to newcomers working in libraries?
Learn to find a balance! It's really easy as an early career librarian to say yes to everything, both inside your library and in the wider field. Inside the library, I'd suggest to focus on projects and programs that are beneficial to your patrons. It seems obvious, but sometimes in libraries we do things because other libraries are doing them.
It's extremely important to try new things, but it helps narrow options down and keep your workload sane when you always have your user in mind and say yes or no based on that. In professional organizations, it's so so valuable to get involved but it's also important to not get burned out by doing too much outside your job. I think it's important to find and focus on the things that energize you professionally (which is why I like to work with new librarians and the ILA Awards committee!)
When and why did you become a member of ILA?
I became a member of ILA when I started my first professional librarian job and my director nominated me for the Robert P. Doyle Award. The award came with a year of ILA membership, which was incredible. I wanted to find out more about issues specific to Illinois libraries and have a chance to network with my colleagues and membership offered that in spades!
How has being a member of ILA helped you professionally?
Being an ILA member has helped me in a number of ways. I was honored to win the Robert P. Doyle ILA Conference Grant in 2019 and because of that, I was able to attend the ILA conference in 2019. While there I met a number of colleagues there who have become trusted friends and mentors – in fact, a librarian I met there was my first call when I was hired at my current library and wanted advice. (By the way – nominate your colleagues for ILA Awards! They're an incredible way to support each other.)
What is your proudest professional achievement to date?
This is a tough one because I've done a lot that I feel proud about. At North Riverside, I helped create an Adult Services Department where there hadn't been one and we really did a lot of dynamic work for our patrons. At Hinsdale, it's been helping my department get through the pandemic and thinking creatively about current programs and services to continue to engage our patrons. In my work with professional organizations, I find a lot of joy in being part of the ILA Awards Committee and recognizing our colleagues.
Hardcover, paperback, e-reader, audiobook or all?
I do a lot of my reading on my phone. I love Hoopla and Libby and I always have my phone with me, and I find it a lot easier than dragging around a tablet. So I guess I'm an e-reader, though when I'm at home I love to pick up a paperback.
Favorite author?
A truly impossible question! A couple of authors I don't mention below but really love are Naomi Novik, Katherine Arden and David Grann.
If you were stuck on a deserted island, what five books would you bring with you to pass the time until being rescued?
I'd probably bring 4 of my favorite escapist novels and 1 novel I haven't read that would challenge me. My escapist novels are:
Good Omens by Neil Gaiman and Terry Pratchett
The Murderbot series by Martha Wells (can I count that as one?)
The Vorkosigan Saga by Lois McMaster Bujold (definitely doesn't count as one but let me pretend)
The Daevabad Trilogy by S.A. Chakraborty (ok, I'm not even trying to pick single novels)
To challenge me, I think I'd pick something thought-provoking that requires concentration, which I rarely have the attention span for in the current day-to-day. Maybe Black Leopard, Red Wolf by Marlon James – that's been on my TBR list for a while. Or very though-provoking but I think more zippy – and also on my TBR pile - is NK Jemison's Broken Earth trilogy. I loved her Inheritance Trilogy and the Broken Earth trilogy won 3 Hugos, so I know when I start it that it will blow my mind.
Cat or Dog?
Dog!
Favorite film, podcast, or television show?
Lately, I've really enjoyed the tv show Our Flag Means Death. My favorite shows to rewatch are The Good Place and New Girl. Comedies all the way for me.
One person you would like to meet, dead or alive, and why?
I think it would be really really cool to meet one of my ancestors from before my family emigrated to the US. I'd like to know about their lives and perspectives.