Member Spotlight - Lora Del Rio
November 22, 2021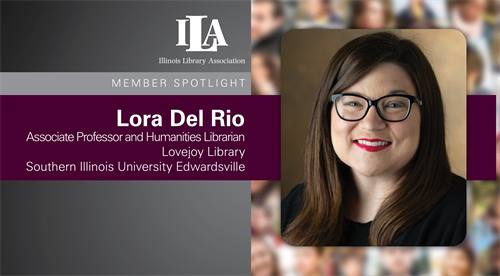 It's time for another member spotlight and this week's spotlight is on Lora Del Rio! Lora is a Co-Chair of the 2022 ILA Conference Program Committee. We asked Lora to tell us a little bit about herself and to answer a few professional and amusing questions. Continue reading to find out more about Lora. 
A little bit about Lora
Lora is an Associate Professor and Humanities Librarian at Lovejoy Library. She is the liaison to the departments of Anthropology, English, Foreign Language, and Philosophy. Her research interests include library marketing & communications, librarian burnout, mentoring, diversity, equity, & inclusion, digital humanities, information literacy, and library instruction. 
How did you get into libraries?
I was a loyal library patron in my hometown. While in college, I worked at the Music Library at the University of Illinois and loved the team environment there. My supervisor, Marlys, was the best and an excellent mentor. I've worked in 7 different libraries throughout my career and collaborated with so many brilliant people.
Best advice you've received since starting your career in libraries?
Be yourself – you are enough! And also "sometimes done is good enough." Helps fight procrastination and perfectionism.
Any advice to newcomers working in libraries?
Commit to learning, always; it's exciting! But also, be patient with yourself and your personal and professional growth. Nothing in nature blooms all year.
When and why did you become a member of ILA?
I joined in spring of 2020 to be a member of the 2021 Conference Program Committee. I was excited for the opportunity to be part of the team and contribute to the profession.
What do you hope to accomplish as a chair of the 2022 Conference Program Committee?
I am really enjoying getting to know everyone on the committee and connecting with them. I'm proud of the work we've done so far. I hope we'll have an awesome in-person conference next fall where people leave feeling a sense of renewal, connection, and community.
Hardcover, paperback, e-reader, or all three?
Definitely all three. I like variety!
Favorite author?
Easy! David Sedaris. I love to read the Santaland Diaries every December (and maybe throughout the rest of the year, ha!).
If you were stuck on a deserted island, what five books would you bring with you to pass the time until being rescued?
Der Vorleser – Bernhard Schlink
Where the Sidewalk Ends – Shel Silverstein
Me Talk Pretty One Day – David Sedaris
I Know Why the Caged Bird Sings – Maya Angelou
Persepolis – Marjane Satrapi
Cat or Dog?
Dog. My family and I have two: Tesla (German Shepherd/Husky) and Philly (Meagle).
Favorite film, podcast, or television show?
Film – Amadeus
Podcast – DIS Unplugged
Television Show – Parks & Recreation
One person you would like to meet, dead or alive, and why?
Lady Gaga – I LOVE her music and everything about her. It would be awesome to hang out and eat a big Italian meal together and talk about life.