Work in Progress and Next Steps for the IACRL DEI Task Force
September 23, 2021
by Firouzeh Rismiller, DePaul University, and Dee Anna Phares, Northern Illinois University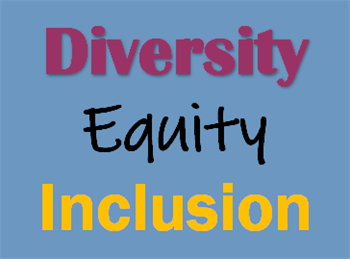 When the IACRL Diversity, Equity, and Inclusion Task Force began its work in Spring 2021, it was clear that academic libraries in Illinois wanted to make substantial progress in their promotion and advancement of diversity, equity, and inclusion efforts. What was less clear was how to accomplish this, especially because the libraries themselves are so varied, with each institution at different points on their DEI journey. For that reason, the Task Force envisioned a dual role which emphasized both advocacy and coordination: finding out what tools, trainings, and recommendations for best practices IACRL members needed and then collaborating with partners within and outside of IACRL to ensure they had access to those resources.
During the spring and summer, the DEI Task Force undertook an environmental scan to find pre-existing resources that might be beneficial to IACRL members, and has been collecting those in order to share them more widely with the membership. While there are many excellent LibGuides, webinars, blogs, articles, and videos focused on diversity, equity, and inclusion, the Task Force would like to highlight a few key resources that could be particularly valuable for institutions and IACRL members at the various stages in their DEI work:
Association of College and Research Libraries' Equity, Diversity, and Inclusion Committee. (n.d.). ACRL Equity, diversity and inclusion libguide.

https://acrl.libguides.com/EDI

Espinal, I., Sutherland, T., & Roh, C. (2018). A holistic approach for inclusive librarianship: Decentering whiteness in our profession. Library Trends, 67(1), pp. 147-162. Project MUSE, doi:10.1353/lib.20
Arellano Douglas, V. (2017, February 22). Microaggressions, faculty, and academic librarians: A study in intersectionality. ACRLog.

https://acrlog.org/2017/02/22/microaggressions-faculty-and-academic-librarians-a-study-in-intersectionality/

American Library Association. (n.d.). Equity, diversity, and inclusion.

https://www.ala.org/advocacy/diversity

. NB The page focused on resources collated by ODLOS and ALA. (n.d.). Libraries respond: Black Live Matter.

https://www.ala.org/advocacy/diversity/librariesrespond/black-lives-matter

Puente, M. (2021, February 9; 2021, March 29). From "inclusive leadership" to "advancing equity" Parts 1 and 2. [Webinar]. Association of College and Research Libraries, Instruction Section, Management & Leadership Committee.

https://youtu.be/jexU9BoFd3I

and

https://youtu.be/goO2p6t8ijg
The materials above are simply a sampling of what is currently available; the Task Force has collected many more that will soon be made available to members of the IACRL community. The idea is to create a living document that will grow and change as we find practical and productive resources.
In addition to gathering and curating materials, the Task Force has also sought out opportunities to learn from and work with other entities across the state and around the country committed to promoting and supporting diversity, equity, and inclusion, including other IACRL and ILA Committees. The Task Force is hoping to develop a Spark event with the Conference and Continuing Education Committee focused on Open Educational Resources (OER) and DEI this fall, and it plans to participate in the IACRL Virtual Unconference--part of the 2021 ILA Annual Conference--to be held on Wednesday, October 13, from 9:00-11:00 AM. We invite you to attend and join us in DEI discussions at the Unconference.
The DEI Task Force wants to assist the IACRL community in its endeavors to make academic libraries in Illinois diverse, equitable, and inclusive, but we can best do that when we fully understand the needs of the community. To better serve you, the Task Force has developed an anonymous feedback form which will allow members to provide suggestions, recommendations for resources and trainings, and offer a platform for sharing ideas and posing questions related to DEI. Please share your insights and concerns, so we can support you in your efforts.