Heather Love Beverly is the Recipient of the 2021 Davis Cup
September 13, 2021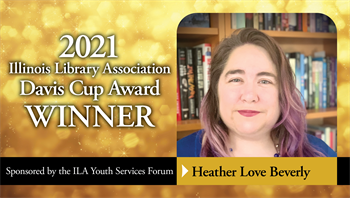 The Illinois Library Association's Youth Services Forum is presenting this year's Davis Cup Award to Heather Love Beverly, Children's Services Assistant Manager at the Cook Memorial Public Library District. This annual award, honoring Marion Davis, recognizes an individual who has made an outstanding contribution in library services to youth.  

Heather Love Beverly began her career in libraries as the Program Coordinator at Prospect Heights Library in 2003. She graduated from Drexel University with her MLIS in 2005, then took a step in a new direction by accepting a position as the Youth Services Assistant Manager at Cook Memorial Public Library in 2005. Heather Love Beverly is a highly motivated individual who has shown an incredible dedication to Youth Services by continually providing exceptional service to children, and by strengthening the field of librarianship for all librarians. In her own community, Heather has created impactful programs such as STEAM Story Times, After School Programs, Science Kits on the Go, and many more learning initiatives.
As a librarian, Heather strongly believes in resource sharing. She is the co-founder of Steminlibraries.com, a blog dedicated to STEAM programming, and KitchensinkRA.com, a blog that seeks to match a person's non-book interests to a book. She has shared her knowledge through presentations on the regional, state, and national levels.
Heather's level of service is outstanding and inspirational. Congratulations to Heather Love Beverly, the 2021 recipient of the ILA Youth Services Forum Davis Cup.
The Davis Award will be presented at an awards ceremony during the 2021 Illinois Library Association Annual Conference. The conference will take place October 12-14, 2021.