Member Spotlight - ILA President Jeanne Hamilton
September 13, 2021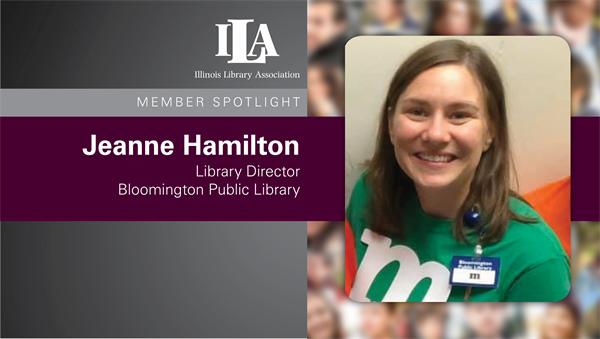 We've updated our member spotlight, and this time it's all about ILA President Jeanne Hamilton! We asked Jeanne to tell us about herself and to answer a few professional and amusing questions. Take a look at her responses below.
A little bit about Jeanne 
One of my earliest memories of the library is sitting on the floor of the Lincoln Library in Springfield, Il and looking at math textbooks to check out and do problems – for fun! My future as a library director (which includes dealing with budgets) was a very logical path.  
I started on the other side of the library desk as the Assistant Director of Helen Matthes Library in Effingham in 2008. I, then, served as the Director for a few years until moving up I-57 to the Charleston Carnegie Public Library. In 2016, I started in my current role as the Director of Bloomington Public Library.  
When I am not at the library, I enjoy spending time outside with my husband and son. And while I haven't checked out any math textbooks lately, I do still enjoy spending time reading.  
QUESTIONS
How did you get into libraries? 
In college, I majored in Actuarial Science. As I was getting closer to graduation, I realized that I didn't want to dedicate years of my life to studying for and taking actuarial exams and I wanted to do something that truly helped people. My dad suggested looking into libraries and I quickly fell in love!  
Best advice you've received since starting your career in libraries? 
To remember that when you have a really difficult interaction, it probably isn't really about what you did or said, rather it was just the time and place where the person you were working with took out their frustration and/or pain from something else.  
Any advice to newcomers working in libraries? 
Don't be afraid to reach out to your fellow library workers for ideas, for support, for fun! Library staff intrinsically want to help people, including colleagues.   
When and why did you become a member of ILA?
I joined ILA very early on in my first job after graduate school. I was excited to get involved in the profession and to connect with other librarians.   
One thing you hope to accomplish as the President of ILA? 
I want to sustain the great work that has been done by ILA members so far and to facilitate supportive connections between colleagues. 
Hardcover, paperback, e-reader, or all three? 
I was converted to e-readers when my son was a baby and wouldn't sleep. I would lay on the floor with the e-reader under his crib for hours. Thankfully, he sleeps now but the e-books have stuck!  
Favorite author? 
Sue Grafton – I am so sad the alphabet ended at 'Y'.   
If you were stuck on a deserted island, what five books would you bring with you to pass the time until being rescued? 
I don't really like to re-read books so I would try to catch up on my want-to-read shelf (i.e. I haven't read these yet and cannot vouch for them!).  
City on the Line: How Baltimore Transformed Its Budget to Beat the Great Recession and Deliver Outcomes by Andrew Kleine 
Haben: The Deafblind Woman Who Conquered Harvard Law by Haben Girma 
Project Hail Mary by Andy Weir 
The Last Chance Library by Freya Sampson 
The Personal Librarian by Marie Benedict and Victoria Christopher Murray 
Cat or Dog? 
Dog  
Favorite film, podcast, or television show? 
The Choiceology podcast by Katy Milkman  
One person you would like to meet, dead or alive why?
Corrie Ten Boom. She was an amazingly brave, caring, and selfless individual who hid and saved an estimated 800 Jewish people during the holocaust.