COVID-19 Update -- January 14, 2021
January 14, 2021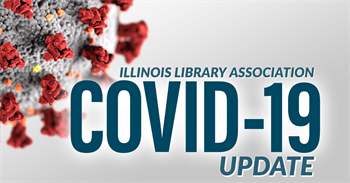 Vaccinations continue to be a topic of intense current interest among Illinois libraries. ILA recently announced a two-pronged approach regarding vaccination eligibility for library staff: A letter sent to the Illinois Department of Public Health, and a template letter that library directors may customize and direct to their county departments of public health. If you are a library director and have found the template helpful, please let us know! We are pleased to report that at least one county was already including its public librarians as eligible in Phase 1b: Winnebago County. Kudos to Rockford Public Library for making that successful outreach. 

Please note: This approach points out that school library staff should already be considered eligible as "educators and support staff" in Phase 1b, and focuses otherwise on public libraries. Advocacy for academic libraries is still in development; complicated by the fact that campuses differ in their approaches. Please stay tuned.

Two upcoming webinars offer information for libraries as employers, regarding the vaccine:
HR Source is hosting a webinar ($25 for members, $50 for nonmembers) on January 28, 2021, regarding employment law and vaccines, "The COVID-19 Vaccine: Employer Options." 
"The COVID-19 Vaccine: Employer Options" Webinar, February 24 Join HR Source attorneys Kelly Hayden and Blanca Dominguez as they discuss key issues related to employee vaccination. Topics will include vaccine distribution, relevant laws that may affect an employer's ability to require the vaccine, and how to handle requests for accommodation from employees. A short Q&A will follow the presentation. This webinar will be held via Zoom on Wednesday, February 24, 10:00–11:15 a.m. For those who can't attend the live webinar, this session will be recorded and archived for 14 days on the RAILS CE Archives. See more details and register on L2. 
REALM Project
Two laboratory tests (Tests 7 and 8) are now underway to study the effect of cold and heat on the surface survivability of the COVID-19 virus. The results of these tests will be published in mid-February. Additional information about the tests is available here.