IACRL Member Spotlight: Sierra Campbell
September 23, 2020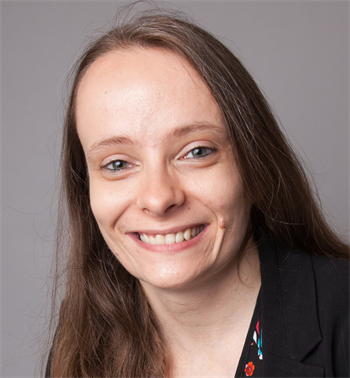 Sierra Campbell, Lewis University
IACRL Member Spotlight:  Sierra Campbell, Research and Instruction Librarian: STEM, Nursing, and Health Sciences, Lewis University

Interviewed by Christina Norton, Bradley University
Sierra Campbell is currently the Instruction and Research Librarian for the STEM, Nursing and Health Science programs at Lewis University, where she is responsible for providing assistance via phone, email and chat service to all at Lewis, as well as instruction to the programs in her liaison areas.
What would you like to share about your educational and professional background?
I received my MLIS from the University of Illinois at Urbana-Champaign in May of 2013 with a focus on archives and special collections.  I originally was planning on becoming an archivist or a special collections librarian but my career track changed when I became a librarian for a small career college which had a focus on business and healthcare programs.
I was the only librarian on staff at my previous position at this career college. It was a challenging experience having to manage two different libraries with different programs at each location, and making sure that curriculum needs and library needs were met.  I also had to improvise with how to obtain materials for these collections since these libraries did not have tools like LibGuides to work with.  I also had a very small budget, most of which went to the very few databases we had access to.  So I was having to find and recommend a lot of free resources to students since we did not have the money to purchase a lot of electronic resources. 
I also created that college's first library website since there was none previously and I felt there needed to be a space where I could organize all of the information related to that library in one space, and also use it in instruction sessions.
While I was there, I was mentored by a few of the instructors who were on the General Education committee. They realized the value that a librarian could provide to their students and I started doing orientations and other one-shot instruction sessions for them.  This led me to wanting to pursue a career as an academic librarian.
In 2019, I attended my first ACRL conference via an Early-Career Librarian Scholarship Award which helped curb costs related to registration and housing.
You started in your current position in January of 2020. What has it been like to acclimate to a new institution and position during a global pandemic?
Acclimating to a new institution during a pandemic has been challenging.  Before the university went into lockdown, I was doing a lot of in-person instruction, but once the pandemic hit I went entirely remote and had to learn a lot of new technology as well as transition to teaching online.  The biggest learning curve so far has been creating and editing instructional videos for various departments.  Sometimes the editing software didn't save my work properly or my subtitles were not synced and I ended up having to go back and correct a lot of mistakes.
In all your time as a library worker, what is the accomplishment you are most proud of?
I think the accomplishment I am most proud of was finding out that I wanted to be an academic librarian and realizing that the institution I am in now will support that vision and help me grow as a professional.
What are you most looking forward to right now in your professional life? What are you most excited about for the field of librarianship as a whole?
I am looking forward to working in a more traditional library and having access to more advanced tools that academic libraries use.  I am also looking forward to learning how to be a better instruction librarian and how libraries and the way we do instruction will evolve with the current state they are in now.
What's the nicest thing you've done for yourself lately? What's the nicest thing you like to do for others?
The nicest thing I've done for myself is I've had more time to read for pleasure.  I've been taking advantage of my local library's ebook collection and diving into some good reads!
The nicest thing I've done for others is that I've been able to be more compassionate to others since we are all dealing with a global pandemic.  I think it is important to realize that not everyone handles the effects of a pandemic in the same way.  We must continue to be kind to others and show that we are in this together so we can minimize stress and cope with the realities of this pandemic in a safe and healthy way.