Legislative Update -- March 12, 2020
March 12, 2020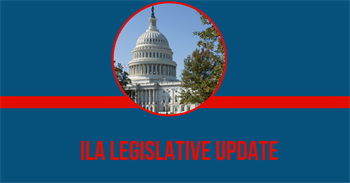 Clearly the coronavirus (COVID-19) is dominating the news cycle and our attention, and has legislative repercussions as well. First, the upcoming session of the Illinois General Assembly, scheduled for 3/18-22/2020, has been CANCELLED. We do not yet know how this cancellation will affect the deadline of 3/27/2020 for proposed bills to be referred to a committee, which is the necessary first step to passage, and we will keep you updated as we learn more. The ILA Public Policy Committee meets next on April 6, and the list of bills ILA is tracking is available on our website.

On the federal level, the campaign to encourage our elected officials to sign "Dear Appropriator" letters in the House and Senate in favor of funding for LSTA and the Innovative Approaches to Literacy program has concluded. The federal budget is now in the hands of the respective Appropriations Committees and we will keep you updated as the budget develops. As we know, the proposed White House budget eliminates IMLS completely; this has happened each year for the past four years and Congress has not seen fit to allow that to happen. You can see which Illinois Senators and Representatives have signed which letters on ALA's website at http://www.ala.org/advocacy/fund-libraries.

Macmillan has proposed three possible new models to replace its unpopular embargo on library purchases of e-books, limiting them to one "copy" (or license) for the first eight weeks of the books' publication. This shows that the publisher has heard the library community's concerns, although the proposed solutions do not seem to be very well received by librarians to date. Please visit https://ebooksforall.org to add your name to a petition or access the latest news and resources.