Legislative Update -- January 9, 2020
January 9, 2020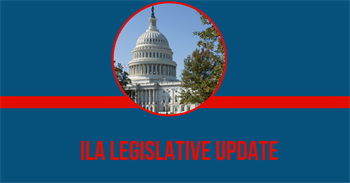 ILA's Public Policy and Advocacy Committees met on Monday 1/6/2020, for the last time prior to our upcoming series of Library Legislative Meet-ups in February. It is a quiet time in Springfield right now, with the Illinois General Assembly reconvening on January 28 and the Governor's State of the State address coming up on January 29. The ILA legislative agenda appears on the 2020 palm card prepared for the meet-ups, with details and updates available on the Legislative Issues web page.

NEW RESOURCE! Whether you're registered for a Meet-up already or still planning to, we've produced a 15-minute, free video that gives an advance preview of the legislative agenda we'll be discussing and some tips for preparing for a Meet-up. Even if you can't make it to an event this year, we hope this information will aid in your advocacy efforts.  

Directors, take note! From Library Days and Dates to Remember 2019-2020: January 16 is the last day (61 days before 3/17/2020 gen. primary election) for local election official and Circuit Clerk to certify the public question to each election authority having jurisdiction where public question is submitted to referendum (10 ILCS 5/28-5). This planning and calendaring resource is always available to you on the Advocacy section of the ILA website.

On the federal level, ILA Executive Director Diane Foote and Rockford Public Library Director Lynn Stainbrook will be heading to Washington, DC to advocate for federal funding for libraries on ALA's Fly-In Days, February 10-11. While the 2020 budget finally did pass, including an increase for IMLS, it's not too early to start advocating for 2021. Foote and Stainbrook will be meeting with their U.S. Congresspeople, Mike Quigley (IL-05) and Cheri Bustos (IL-17), respectively, both of whom serve on the House Appropriations Committee, and with Senators Duckworth and Durbin.

Want to help advocate on the federal level? Join the Illinois delegation to ALA's National Library Legislative Day, May 4-5, 2020. Illinois traditionally has one of the largest contingents, and registration is limited this year, so don't wait.