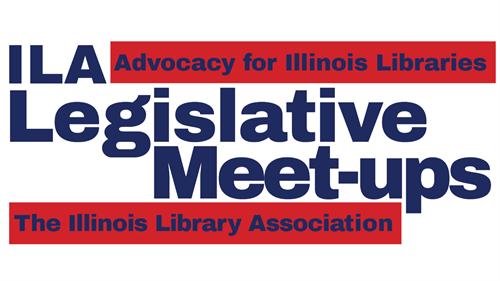 2020 Legislative Meet-Ups
This series of eight legislative events provides an opportunity to meet with your legislators and speak with them firsthand about issues affecting you and your library. Library trustees, directors, and staff from public, school, and academic libraries are encouraged to attend and participate. Use this opportunity for photo ops with your elected officials to post on your social media or to invite them to visit your library.

Advance registration is required, so don't wait! If you have questions regarding registration or you're not sure which Meet-up covers your library and legislative district, contact the ILA office at 312-644-1896 or email ila@ila.org. 
Your registration fee includes breakfast or lunch, legislative materials, and program featuring state and federal legislative briefing and library-related priorities and speakers. 
Make your voice heard!
Monday, 3 February 2020


West Suburban Library Legislative Lunch

Chicago Marriott Oak Brook

1401 W. 22nd St.

Oak Brook, IL  60523

11:30 a.m. doors open and lunch is available

12:00 noon program begins

2:00 p.m. program concludes

Price:  $45

Friday, 7 February 2020

Metro East Library Legislative Breakfast

Sunset Hills Country Club

2525 Illinois 157

Edwardsville, IL  62025

8:00 a.m. doors open and breakfast is available

8:30 a.m. program begins

10:00 a.m. program concludes

Price:  $25

Monday, 10 February 2020         

Southern Illinois Library Legislative Lunch

Effingham Public Library

200 N. Third Street

Effingham, IL  62401

11:30 a.m. doors open and lunch is available

12:00 noon program begins 

1:30 p.m. program concludes

Price:  $25

 

Friday, 14 February 2020

Central Illinois Library Legislative Breakfast

Bloomington-Normal Marriott Hotel

201 Broadway Ave.

Normal, IL  61761

8:00 a.m. doors open and breakfast is available

8:30 a.m. program begins

10:00 a.m. program concludes

Price:  $30

Friday, 14 February 2020

Western Illinois Library Legislative Lunch

Galesburg Public Library

40 E. Simmons Street

Galesburg, IL  61401

11:30 a.m. doors open and lunch is available

12:00 noon program begins
1:30 p.m. program concludes 

Price:  $25

Monday, 17 February 2020

Presidents' Day Library Legislative Breakfast

Arboretum Club

401 Half Day Rd.

Buffalo Grove, IL  60089

7:45 a.m. doors open and breakfast is available

8:30 a.m. program begins

10:00 a.m. program concludes

Price:  $30

Friday, 21 February 2020

South Suburban Library Legislative Breakfast

Tinley Park Public Library

7851 Timber Dr.

Tinley Park, IL 60477

7:45 a.m. doors open and breakfast is available

8:30 a.m. program begins

10:00 a.m. program concludes

Price:  $25

Friday, 6 March 2020

Chicago Library Legislative Lunch

Harold Washington Library Center Winter Garden
400 S State Street
Chicago, IL 60605

11:30 a.m. doors open and lunch is available
12:00 noon program begins
1:30 p.m. program concludes

Price: $45

 
#ILAMeetups