IACRL Secretary/Treasurer Heather Jagman Bangs a Drum (Literally!)
September 20, 2019
Interviewed by Elena Carrillo, University of Illinois, Chicago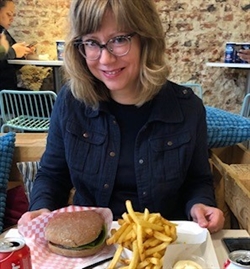 Heather Jagman
Heather Jagman is a coordinator of reference, instruction, and academic engagement at the Richardson Library at DePaul University, serving as the liaison to the Theatre School, Critical Ethnic Studies, and Education. More to the point, she is the newly elected Secretary/Treasurer for IACRL. We wanted to welcome Heather aboard and share a little more about her love of learning, her joy in traveling, and other points of inspiration in her library journey. 
In your candidate statement, you talked about learning from and supporting other Iibrary workers. What do you hope to learn in your role as Secretary/Treasurer that will be new to you?
I'm excited to learn more about what my colleagues around the state are doing to support our patrons. We have such a rich library network here in Illinois, and so many opportunities to collaborate and learn from each other. How can we make that easier?  As Secretary/Treasurer for IACRL, I'm hoping to hear more about what we can do to support the professional development of librarians and academic library workers. 
As a librarian who leads a team of research and instruction liaison librarians, I'm interested to hear what creative ideas other academic libraries  are implementing in support of their users. I'm also excited to share my enthusiasm for ILA, and encourage academic libraries to join and attend the annual conference. Our colleagues in public, school, and special libraries are doing so many exciting things, and I always come away finding some way to connect what I've learned to our academic environment.
This year you are co-chair of the planning committee for the 2019 ILA Conference. What is your biggest challenge organizing such a great event?
Communication is really important and so is rolling with the unexpected, especially when you have to plan things so many months in advance. Cyndi Robinson and the rest of the staff at ILA do an amazing job supporting the committee and managing the logistics. This year, we had invited Dr. Bridget Coughlin, CEO of the Shedd Aquarium, to speak. She's been a leader in shifting how museums interact with the public, but unfortunately, due to an unavoidable conflict, she recently had to cancel her keynote appearance. 
Fortunately, Shedd Aquarium's Senior Vice President of Guest Experience and Communication Rob Stein is able to serve in her place, so we have a speaker who can address our themes.  Still, there is the sting of disappointment--the committee was looking forward to hearing about her experience, and there aren't yet as many opportunities to hear from women in museum leadership.
Where do you get your inspiration? What gets you up and going every morning?
I often describe  myself as an enthusiastic generalist. I've always been a curious person, and I love making connections--between ideas and between people. If I can introduce or connect someone to information they need, ideas or music they might enjoy, or just show them something cool, I feel good. Apparently, I've always been this way. 
My parents recently uncovered an old grade school report card where a teacher described my enthusiasm for bringing in articles from Ranger Rick and National Wildlife magazines and sharing them with the class. I'm pretty sure this was not a required activity. I couldn't help myself.
What are some relaxing things you like to do outside of work to destress and recharge?
My husband Arek and I enjoy spending time walking around our neighborhood in Chicago with our three year old Bedlington terrier, Mr. Harry Mochi. Harry would be happy if we spent all of our free time playing ball with him in our little backyard, but we also really enjoy traveling and meeting up with friends from all over. I lived in Kobe, Japan, for about a year after college, and have been lucky to return to Japan a number of times over the years to connect with old and new friends. We visited for the first time in ten years last summer, but we won't wait that long before our next trip. It's an expensive and long flight, but once you are there, Japan is more affordable and easier to navigate than most people expect. 
This year, we were lucky to be able to travel to Europe to help celebrate the wedding of some friends outside of Ghent, Belgium. I love having a sort of mission to build a trip around, so after the wedding we took a train to spend a few days in Paris.  Planning for trips and daydreaming about what you'll do and see (and eat!) is part of the fun for me, and I love sharing travel tips and stories, and hearing about other people's adventures. 
Closer to home, I love visiting the driftless area of southwestern Wisconsin, and I feel disconnected from my soul if I don't get out for a hike in the woods or into a canoe or kayak a few times a year. I started meditating two years ago using the Calm App and Insight Timer, and I think that practice has helped remind me how important it is to just sit and breathe and just be. I've also taken a few classes in Japanese taiko drumming.  Just like meditation, playing taiko requires focus, but where mediation is quiet, taiko is really satisfyingly loud and joyfully physical. I'm still very much a novice and kind of a mess, but I really enjoy it. It's also a good reminder of how hard it can be to be a beginner at something, and strengthens my empathy for the students we work with who are experiencing academic library research for the first time.
Tell us about someone who has been an important mentor for you. What qualities in them do you hope to pass on to others?
Carolyn Sheehy,  the former Clare and Lucy Oesterle Director of Library Services at North Central College, supported my professional development and helped me find opportunities to grow as a professional in my first job after library school.  She was a strategic thinker and a serious professional who also knew how to cultivate warm personal relationships. I hope I bring out the best in my colleagues while reminding them they can bring their whole selves to work.