Heather McCammond-Watts, Glen Ellyn Public Library, Awarded Davis Cup
July 16, 2019
The Illinois Library Association's Youth Services Forum is presenting this year's Davis Cup Award to Heather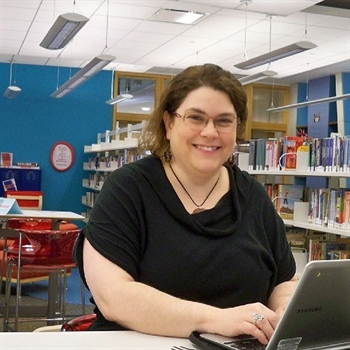 McCammond-Watts, Youth Department Head at the Glen Ellyn Public Library. This annual award, honoring Marion Davis, recognizes an individual who has made an outstanding contribution in library services to youth. This award is proudly sponsored by ABDO Publishing Company.
Heather McCammond-Watts began her library career as a children's librarian at Chicago Public Library, and then became Manager of Children's Services at Oak Park Public Library. Heather later served as the director at both Midlothian and Wilmette Public Libraries. She is currently the Youth Department Head at Glen Ellyn Public Library, is an ILA member and also serves as a representative for LACONI.
Throughout her career, Heather has raised the bar for services to youth and families in libraries with her passion for team building, play-based learning, early literacy and community engagement. Since May of 2018, Heather has led her Youth Department team at Glen Ellyn Public Library, by her example and her teaching, to provide outstanding service to children and families. Heather has been described by her peers as a leader, mentor and inspiration; a natural storyteller, lifelong learner and teacher; an early literacy champion, community builder and hero. Congratulations to Heather McCammond-Watts, the 2019 recipient of the ILA Youth Services Forum Davis Cup Award.
The Davis Cup Award will be presented at the Awards Luncheon held on Tuesday, October 22, during the 2019 Illinois Library Association Annual Conference in Tinley Park.
For further information, contact the Illinois Library Association.