Elevate Illinois Libraries Leadership Program Report
October 1, 2018
Eric Edwards, Illinois State Library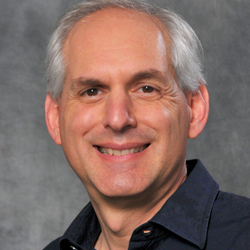 How do the leadership styles of Abraham Lincoln, Bob Knight, and Benito Mussolini differ? That was one of the questions attendees at the Elevate Illinois Libraries Leadership Program contemplated with almost 100 of their Illinois library peers. This was the first year for the event, which took place at the Illinois State Library on Saturday, April 28. The program was a combination of large-group discussions, led by Dr. Adam J. Goodman of Northwestern University (who heads the school's Center for Leadership), and smaller conversations guided by facilitators at each table.
Unlike other leadership programs, which sometimes require participants to have a master's degree in library and information science, Elevate was open to any interested Illinois librarian who completed the application process. Additionally, the program was focused primarily on how leadership applies to one's own responsibilities and goals. The wide range of viewpoints in the discussions, and the opportunity to apply these insights to one's own projects, helped make the program particularly beneficial to all attendees.
As a first time attendee, I had several takeaways from the day's activities and discussions. With the group at my table coming from various types of libraries, having differing job responsibilities, and possessing a range of levels of experience in the profession, I was somewhat surprised by the commonalities among the challenges and opportunities we encounter in our own work. This demonstrates that, despite our different work environments and patron groups, librarians still share the goal of making information available and accessible to as broad a range of the public as possible.
A theme underlying many of the day's discussions and activities was that, in pursuing any long-term project, it is not necessary to have a perfect plan at the outset. As someone who prefers to lay out a schedule of steps to complete in order to reach a goal, and to adhere to this schedule as much as possible, considering this theme forced me to step outside my comfort zone (one of the goals for all attendees as they participated in the conversations). I had a similar revelation in the discussion on reinforcing one's strong points and not being overly concerned with one's weaknesses. While I do build on strengths, especially in committee work for professional organizations, I also try to fill gaps in my knowledge of the profession, so this conversation also forced me to reconsider my approach to professional growth. Perhaps the most important lesson is that there is not a "one-size-fits-all" approach to leadership, and that one has to acknowledge fully one's strengths and weaknesses in using leadership skills successfully to solve a problem or grow professionally.
For those who did not have an opportunity to participate in the Elevate Illinois Libraries Leadership Program in April, or for participants who would like to build upon their knowledge and consider how they have applied what they learned to their own work and goals, this year's ILA Annual Conference will include a preconference with Dr. Goodman (on Monday, October 8), Elevate Preconference: Leading with Purpose.