Download the full IYSI Program Book

Schedule at a Glance
Thursday, March 16
10:00 am

11:00 am - 12:30 pm

12:45 - 1:45 pm

2:00 - 3:00 pm

3:00 - 3:15 pm

3:15 - 4:15 pm

4:30 - 5:30 pm

5:30 - 6:30 pm

6:30 - 8:30 pm

Help Desk Opens

Luncheon with Celia Perez

Breakout Sessions

Breakout Sessions

Snack Break

Breakout Sessions

Breakout Sessions

Dinner on your own

Evening Reception with Sponsors
Friday, March 17
8:00 am

8:00 am - 1:00 pm

9:00 - 10:00 am

10:15 - 11:15 am

11:30 am - 12:30 pm

12:30 - 1:30 pm

1:45 - 3:00 pm

Help Desk Opens

Sponsor Tables

Keynote Workshop with Ann Torralba

Breakout Sessions

Lunch

Breakout Sessions

Breakout Sessions
Lunch is included in each day's registration. 

Thursday, March 16
Plated Luncheon Menu*:

Waldorf Salad
Mixed Greens, Green Apples, Cucumbers, Tomatoes, Raisins, Candied Pecans, Raspberry Vinaigrette
Tuscan Chicken
Lightly Breaded, Sautéed Chicken with Goat Cheese, Sundried Tomato Béchamel Sauce & Prosciutto
Vegan/Vegetarian
Zucchini, Asparagus, Tomatoes, Beans & Rice
Dessert
Key Lime Pie
Drinks
Assorted Pepsi Soft Drinks, Coffee, Iced Tea, and Water Service

*If you have indicated dietary restrictions on your registration, please pick up your meal ticket at the help desk upon arrival. 
---
Friday, March 17
Italian Market Buffet Luncheon Menu:

• Caesar Salad
• Caprese Salad
• Baked Chicken Alfredo
• Beef Strip Loin with Mushrooms
• Marinated Grilled Vegetables
• Lemon Berry Mascarpone
• Assorted Pepsi Soft Drinks
• Coffee, Iced Tea, Water Service
---
IYSI Planning Committee
Co-Chairs
Susan Farnum, Forest Park Public Library 
Alice Kuhn, Hinsdale Public Library 
Members
Jen Abler, Oak Lawn Public Library
Jess Alexander, Morton Grove Public Library
Lisa Barefield, Wheaton Public Library
Sara Bell, Dunlap School District
Lyndsey Carney, Normal Public Library
Kathy Dejnowski, Thornton Public Library
Stuart Griner, Chicago Public Library 
Lindsey Herron, Wood River Public Library
Tiffany Lewis, Eisenhower Public Library
Ellen Popit, Illinois Heartland Library System 
Margae Schmidt, Reaching Across Illinois Libraries System
Staff Liaison
Kristin Pekoll, ILA Conference and Continuing Education Manager
Join the Conversation!
#IYSI2023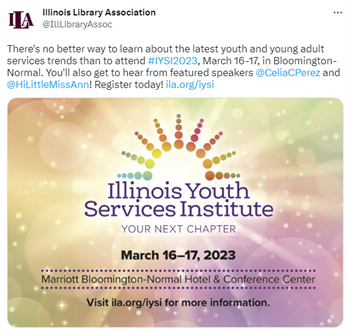 Diamond Sponsors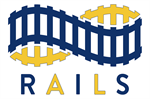 Sapphire Sponsors