December 16, 2021
By ILA Intellectual Freedom Committee
---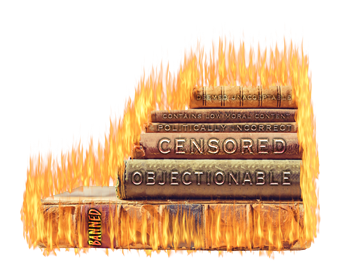 "I think we should throw those books in a fire."
Rabih Abuismail, Courtland, VA School Board Representative (The Washington Post).
Across Illinois and the United States, there has been a striking increase in challenges to library resources. According to the American Library Association's Office of Intellectual Freedom (OIF), there have been 155 challenges just from June 1, 2021 to September 30, 2021. In September, there was a 60% increase in challenges from the same time last year. "We're seeing an unprecedented volume of challenges in the fall of 2021," says Deborah Caldwell-Stone, OIF's director. "In my twenty years with ALA, I can't recall a time when we had multiple challenges coming in on a daily basis."
In its November statement opposing widespread efforts to censor books in U.S. schools and libraries, ALA states "Some of these groups even resort to intimidation and threats to achieve their ends, targeting the safety and livelihoods of library workers, educators, and board members who have dedicated themselves to public service, to informing our communities, and educating our youth."
There are coordinated groups launching these censorship battles, as libraries have become the latest victim of culture wars. Whether it is FOIA requests seeking specific titles in collections or email blast calls for group members to protest school board meetings, there is a coordinated effort to censor materials.
These groups include Wake Up D99, Breakthrough-Ideas, and No Left Turn, including 25 books that group is challenging in St. Louis. According to Andy Wells, president of the Missouri chapter of No Left Turn, "There's parents' organizations in a lot of these school districts across the state, and they were individually trying to challenge these books themselves, seeing it as a local problem. Why are we fighting this locally when it's a state law? This should be a state fight."
In LaGrange, Illinois, a parent read passages out of context at a school board meeting to point to the explicit language in the books. Even the extremist group Proud Boys have recently targeted school libraries in Downers Grove, Illinois, calling students "pedophiles" for wanting to keep a challenged book in their library.
In Board of Education v. Pico, 457 U.S. 853 (1982), the U.S. Supreme Court determined that book banning was a First Amendment issue, and that school boards do not have the right to suppress ideas. Parents and citizens do have the right, however, to raise concerns about the suitability of a book or books in a library and ask that it be reviewed. Do you know what to do if you receive a challenge? Have you recently reviewed your challenge policy or collection development policy? Now is the time to review those policies and be prepared.
Start the conversation now, and build a foundation of support with your boards, administrators, friends, and family. Explain why librarians fight to make ideas freely available to their students and communities. Can you articulate why? "A truly great library has something in it to offend everyone" (Jo Godwin) is a good way to start. Remind people that librarians and teachers have the professional expertise to select materials. Remind people that each reader deserves to have their experiences represented. Remind people that if they don't like it, they don't have to read it, and they can choose what their kids do (or don't) read too. Have your elevator speech ready.
If you receive a complaint, a great first step is open communication with the concerned individual. This is where you have the best opportunity to start a conversation. Stay calm and listen carefully to their concerns! The power of excellent customer service cannot be overstated here, and could prevent a more serious conflict. This is a good place to gently remind the patron or parent that the book in question might not be for them or their family, and that you certainly understand their concerns, but it still might be a book that others want or need to read.
In the event of a complaint or challenge, you need to be able to communicate why the book was chosen (selection criteria, reviews, awards, circulation data), how it fits into your collection development plan, and why it should be available to your community. Both complaints and challenges need to be communicated to library or school administrators, so they can be well prepared if they are confronted about the item.
Not every complaint ends up as a challenge, which is a formal, written request to remove a book from the library collection. If you do receive a challenge, there are resources available to help. The first step is to report the challenge. The OIF has provided support to 120 of those 155 reported cases and has tools to help. You can contact the OIF for advice, even if you have not yet received a formal complaint. These reports can also be anonymous.
Now is a good time to think about how to communicate the challenge process for your agency's administrators. Who would be responsible for organizing a committee, reviewing the work, planning a hearing, or working with the media? Start those conversations now.
Lastly, think about who would support your library in the event of an organized challenge? Who would be willing to show up for the library and support the freedom to read? Here are some suggestions for organizing a grassroots campaign. As a library employee, you may be asked to keep neutral in the event of a formal challenge. Be very aware of your library's staff policies and if in doubt, speak to your administration; there are generally rules and sometimes even laws regarding political activity as a governmental employee.
It's time to speak up, speak out, and be prepared. "To everything there is a season. Yes. A time to break down, and a time to build up. Yes. A time to keep silence and a time to speak," (Ray Bradbury, Fahrenheit 451).
Additional Resources:
ALA Statement on Book Censorship
EveryLibrary Freedom to Read Petition
Grassroots 101: How to Save Your Library from Organized Censorship
How to Respond to Challenges and Concerns about Library Resources
LGBTQ+ Materials in School Libraries
National Coalition Against Censorship
Selection & Reconsideration Policy Toolkit for Public, School, & Academic Libraries
Past blog posts