Meet the New Vice-President/President-Elect: Eric Edwards, Illinois State Library
October 2, 2017
Krista Bowers Sharpe
Western Illinois University
What are your goals as the incoming Vice-President/President-Elect of IACRL?  
I'm looking forward to working with the rest of the Executive Board to devise interesting and exciting activities for our members over the coming year, especially since we will not be holding a "formal" conference in 2018. In addition to holding the IACRL-related events at ILA this year and next, we've also discussed having several sites around the state host ACRL webinars, which cover topics and advice that academic librarians can apply to their jobs. Depending on feedback from members, we may hold a workshop or forum at some point next year.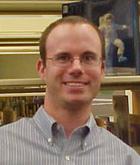 Speaking of feedback, I think it's important that, as an organization, IACRL determines what its members broader needs and interests are, so that we can serve members better. We offer some of the same opportunities as ACRL, but in a smaller setting that gives members plenty of chances to network and grow professionally. I think we also need to continue building relationships with other library organizations, at the state, regional, and national levels. In today's environment, collaboration across the profession is critical for pooling resources and exchanging ideas.  
For those of us working at degree-granting institutions, can you tell us what might be different about working at the state library?  
Having worked at a degree-granting institution (Benedictine University at Springfield) before coming to the State Library, I can say that the largest difference is probably the user group. We serve primarily state government employees, but we also have members of the public coming in to conduct research. As a state library, we also work with all types of libraries across the state—not just academic, but public and special—particularly through grant programs. Surprisingly, we do not have that many student users, even though we are a few blocks from one of the local high schools. 
Another difference is the mindset in customer service. At Benedictine, the focus was on teaching students the skills needed to navigate databases and, ultimately, conduct research independently. Here, due to the broad range of users and their varying research needs, the emphasis is more on providing an answer, instead of merely pointing the patron in the right direction.  
You are an indefatigable committee worker in Illinois academic library circles. What is the most interesting or unusual task you've ever performed as part of a committee?  
As part of the CARLI Resource Sharing Committee, I've had to respond to some interesting monthly listserv questions that the Committee puts out, including one on the "most unusual items" that your library lends. For the State Library, that means a large number of makerkits (particularly 3D printers and several types of robots), and also Civil War educational kits, which include books and props for reenacting life in nineteenth century Illinois. In the past, the State Library has circulated canvas bags for presentations, in addition to several pieces of artwork. Another interesting project I've undertaken is writing an article for the ILA Reporter on podcasting. I don't have any experience with producing podcasts myself, so it was really fascinating to hear different perspectives, from podcasters with various interests and levels of experience, on the best ways to make library-related podcasts informative and entertaining.  
Has your degree in political science informed your work as a librarian or on committees? In what way?
Very much so, especially in my current position. Since political science covers a broad range of topics (government, law, economics, history, sociology, and others), having that background has been extremely helpful for understanding how sections of the collection covering those areas relate to each other, and how one can best use those resources to assist patrons. It also aids with collection development, particularly identifying those materials that match the current needs of state government employees. As far as related committee work, I used to serve on the Health Science Librarians of Illinois Legislative Committee, which required searching for, and tracking, legislation relevant to libraries. Therefore, having knowledge of the subject matter and the available resources, particularly online ones, made finding and identifying the legislation easier. I applied these experiences to an ILA Reporter article on using databases to find and track legislation.