Bloomberg Receives 2017 Hugh C. Atkinson Memorial/Demco Award
October 2, 2017
Eric Edwards
Illinois State Library
Kathleen L. Bloomberg is the 2017 recipient of the Illinois Library Association's Hugh C. Atkinson Memorial/Demco Award. (To see the official announcement from the Illinois Library Association, go here.) The Award honors a person, group, institution, or program that has made a sustained and lasting contribution to the library and information science profession. Bloomberg, who retired at the end of 2016, worked at the Illinois State Library for 32 years, most recently as Associate Director of Library Operations. Many of her achievements and initiatives during that time continue to have an impact, not just on the State Library and its services, but also on Illinois libraries more broadly.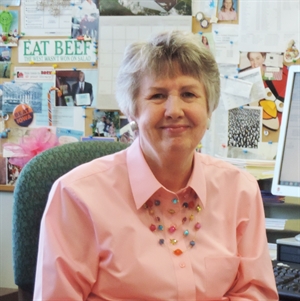 One of Bloomberg's major accomplishments was to update and expand legislative rules governing Illinois libraries, particularly library systems, so that these rules reflect the changing needs of libraries in the 21st century, especially as the state continues to face budget constraints and the challenges to resource-sharing caused by a decrease in the number of library systems. The policies governing Illinois library systems were originally created in 1965 and updated several times over the years (taking the form of the Illinois Library System Act starting in 1984), but these guidelines had become outdated by the beginning of the 2000s. Bloomberg's revisions to the rules were part of a statewide collaboration and went into effect in 2015. 
Bloomberg also played a key role in bringing not just library regulations, but also resource-sharing technology, up to date. In the time before the Internet became widespread, resource sharing depended primarily on automated systems. Bloomberg made certain that as many libraries as possible across Illinois became members of the OCLC Regional Network, so that which books, periodicals, and other materials they owned were available for other libraries to view and, if interested, request through interlibrary loan. This ensured that as many people as possible throughout the state had access to materials beyond just what their own libraries held.
These are just two examples of Bloomberg's emphasis on statewide cooperation to improve library services for Illinois residents. In 1992 (at the time, she was serving as Associate Director of Library Development), she launched an initiative to upgrade services for Illinois residents who live in areas of the state where taxpayer funding for public libraries is virtually non-existent. The report that resulted from a series of public hearings, Strengthening Library Services in Rural Illinois, is still a valuable resource for State Library staff 25 years later in planning and implementing programs and services aiding Illinois rural libraries.
The long-lasting impact of Bloomberg's initiative and leadership has not been restricted to statewide efforts. At the Illinois State Library itself, she assisted employees in providing services more efficiently, even with staff size declining. As a result of the Illinois State Library Strategic Directions, which Bloomberg helped draft, the Illinois Digital Archives (IDA) expanded and made many of the state's archival documents more easily accessible. Also, the State Library's Talking Book & Braille Service, which provides materials designed for differently-abled patrons, successfully switched to a new service model.
Bloomberg's emphasis on cooperation as a means for libraries to adapt and grow also extended to her professional activities. She played a key role in the formation of CARLI (the Consortium of Academic and Research Libraries in Illinois), and she later acted as the State Library's liaison to the organization, serving on committees and fulfilling other responsibilities that enhanced cooperation and resource-sharing among Illinois libraries. Bloomberg was also the Editor of Illinois Libraries, a journal that highlighted libraries' accomplishments and advocated for support of the vital role that libraries play in society.
The author would like to thank the following individuals for providing extensive background information on Kathleen Bloomberg's achievements, especially as they relate to the criteria for the Hugh C. Atkinson Memorial/Demco Award: Anne Craig, CARLI Senior Director and formerly Director of the Illinois State Library; Joseph Natale, Executive Assistant to the Director at the Illinois State Library; and Jean Wilkins, retired, formerly Director of the Illinois State Library.