IACRL Awards $500 to Illinois Colleges to Kickstart Work with Open Educational Resources
May 4, 2023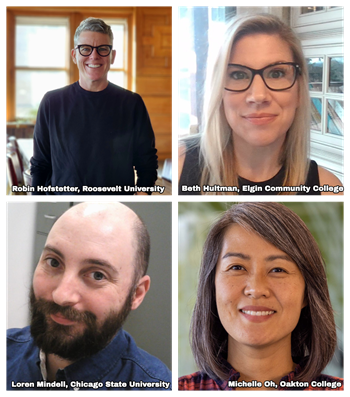 The Illinois Association of College and Research Libraries (IACRL) is excited to announce the winners of the first OER Campus Kickstart: Award for Growing Illinois OER Programs. The following teams will each receive a $500 award as incentive to implement an OER textbook for upcoming courses in the Fall 2023 and Spring 2024 semesters:
Cari Didion and Alli Cipra of Governors State University

Robin Hofstetter and Edward Green of Roosevelt University

Beth Hultman and Patrick Carberry of Elgin Community College

Loren Mindell and Rasha Elhage of Chicago State University

Michelle Oh and Adrienne Smith of Oakton College
The final materials used in each course will be made broadly available using a Creative Commons license and hosted in the Open Illinois OER Commons Hub. Each pair of faculty and librarian collaborators will make a presentation on their experiences and outcomes to the IACRL membership. This could take place at the 2024 Illinois Library Association Annual Conference or an IACRL webinar.
For more information about the award please visit the OER Campus Kickstart: Award for Growing Illinois OER Programs webpage.
For questions about the award please contact Emily Gilbert (emilygil@uic.edu), Awards Committee Chair and IACRL Past President or Daniel Matthews (Matthewsd29@morainevalley.edu), IACRL President.