Meet the New IACRL Secretary: Christina Norton
September 29, 2022
Interviewed by Kim Tipton, McHenry County College Library
Christina Norton is your newly elected IACRL Secretary. She's currently the Online Learning Librarian at Bradley University, where she also serves as a liaison librarian with some instruction responsibilities. She enjoys supporting her students and "helping dispel mysteries around how things work." Norton has served on a number of committees for multiple library organizations and treasures all the relationships she has formed in her service to the profession. In her spare time, she's always on the lookout for wildflowers and has found some very unusual ones!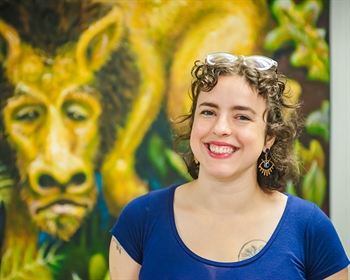 Christina Norton, IACRL Secretary
Tell me about your education background and what led you to pursue library work.
Well, before I went to library school, I completed a BFA in painting from the University of Georgia. I love art and painting but I had the realization about myself that I would not thrive in that kind of professional environment - that I do better in more structured, predictable settings (HA!). I also learned around that time that you didn't have to go to graduate school for the same discipline that you studied in undergrad. I had not really known anything about graduate school before that point. I literally started Googling jobs I had considered at other points in my life - "how to become a zookeeper," etc. One of the things I searched for was how to become a librarian. So I learned about MLIS programs, did some reading on contemporary librarianship, and was just really enamored with everything I read. I remember getting extremely hyped up reading about whether or not an antelope is a document, and was moved when I learned about the important role archival preservation played in exposing the reality of the Nanjing Massacre. I was like yeah, I can fit in with this kind of nerd. So I got my MLIS.
In your candidate statement, you said you're the "Online Learning Librarian and interim Instruction Librarian at Bradley University, where [you are] liaison to the Art, Communication, English, Education, Graduate-Level Counseling, Interactive Media, Music, and Theatre Arts programs." How did you become involved in those disciplines? Do you have any personal experience in those areas?
That information is in need of an update! We have hired another librarian to be our Outreach and Instruction Librarian, so I no longer have that interim title. I've also passed on Interactive Media to her based on her background. But the others remain! As I answered above, my background is in painting, so the fine arts are generally a good fit for me (I was also in band and theatre, but only in high school!). I work with Education and Counseling through my role as Online Learning Librarian, since we have fully-online programs in those areas. I took on English when somebody else left their position. As I think it is with most librarians, some of my liaison relationships are based on my background, and some are based on necessity.
Tell me about your work as an instruction librarian. What do you enjoy about it? What are the challenges?
I'm no longer officially the instruction librarian, but I enjoy doing instruction as a liaison librarian as well. My favorite part is probably helping dispel mysteries around how things work. I like describing how things are organized and why, so the techniques that I teach them make more sense. I also like helping students find non-book resources, like images or primary sources. The biggest challenge is getting everyone through the necessary but boring stuff. Even I get bored with some of the things I teach. But they're things people need to know!
You're served many professional associations in various roles. What has been the best part about "committee work" for you?
It is honestly, no joke, the friends I've made along the way. Through CARLI and IACRL and ACRL committees I've met many people who I now consider to be treasured colleagues. And who inspire me with the work they do! Committee work also helps me explore my professional interests that I might not have as much exposure to in my day-to-day work.
You also said you enjoy identifying wildflowers! Where do you look for them? Tell me about some of the wildflowers you've spotted.
I look for them everywhere. If you go for a walk or hike with me, I am probably going to stop and point at flowers. Peoria has a really great park district, and in the early pandemic when we were all going for our little mental health walks every day I got to know many of the parks very well. Forest Park is a favorite of myself and many others. It's the only place I've ever spotted a hoary puccoon (and I've only ever seen one!) and a few weeks ago I also found a ghost pipe there for the first time. I gasped so loud the friends I was with thought I'd seen a snake or something. But it was just a flower. Ghost pipes are cool because they're parasitic - they get their nutrients from fungi underground, so they have no chlorophyll and are completely ghostly white.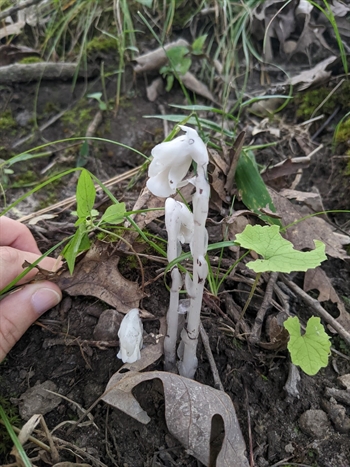 A ghost pipe flower growing in Forest Park in Peoria, Illinois.