Fast Forward Libraries Announces Recipients of 2022 Scholarships
September 21, 2022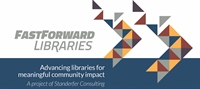 The Fast Forward Libraries scholarship recipients for the 2022 ILA Annual Conference have been announced. Four recipients were chosen to receive $500 to help defray the cost of attending the conference. The recipients are as follows:
Christie Lau, Carlock Public Library District
Elecia Cooper, Kinmundy Public Library
Devin Scott, Salem Township Library
Amy Runkle, Franklin Grove Public Library

Congratulations to these scholarship recipients, and we hope this is the first of many ILA Annual Conferences they attend!