Sign up to Celebrate Vote Early Day on October 28!
June 29, 2022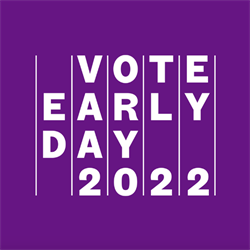 Looking for a fun way for your library to engage with voters in your community and make sure their voices are heard in the election this fall? Sign up to celebrate Vote Early Day on October 28!
Vote Early Day is a nonpartisan movement of media companies, businesses, nonprofits, election administrators, and creatives working to ensure all Americans have the tools to vote early. Since our first celebration in 2020, over 3,000 organizations (including national partners like MTV, Snapchat, Uber, PayPal, Lush Cosmetics, REI, United Way, League of Women Voters, and Patagonia) have come together to empower voters. Building on the momentum of National Voter Registration Day a month earlier, this collaborative, open-source model gives our partners a tentpole moment to engage with voters and help them make their voices heard by voting ahead of Election Day. 
There are a number of barriers that can stop people from casting their ballot if they wait until Election Day – but if they vote early, they can overcome these issues.  Voting early ensures:
You skip the long polling place lines

Last-minute meetings or emergencies on Election Day don't pull you away from casting your ballot

You have time and opportunities to conquer the obstacle of often confusing election rules

You can overcome the hurdles caused by voter disinformation
This fall, thousands of organizations across the country will help their neighbors vote early by holding celebrations that are engaging and meaningful for their community – including everything from hosting a party at the polls, knocking on doors, organizing a social media campaign, and helping patrons find their polling location. Vote Early Day is the perfect opportunity for libraries to empower voters in their communities through a welcoming celebration that lowers the barriers for entry to our democracy. 
Celebrating Vote Early Day is simple and easy – our team will provide you with digital tools, real-world swag (stickers, posters, postcards, etc), trainings, and webinars to help make your event a success.
You can learn more about this movement and sign up to be a partner here. Please don't hesitate to reach out to gretchen@voteearlyday.org with any questions. We look forward to celebrating with you!