Member Spotlight - Brittany Coleman
September 5, 2022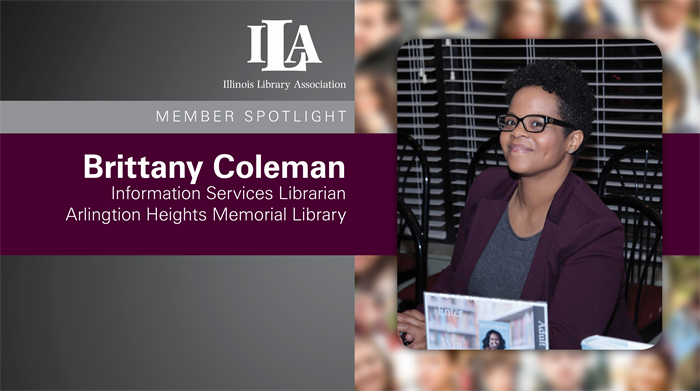 This week's member spotlight is on Brittany Coleman. Brittany is an information services librarian at the Arlington Heights Memorial Library, and she is a former member of the ILA Diversity Committee. We asked Brittany to tell us a little bit about herself and answer a few professional and amusing questions. Continue reading to find out more about Brittany. 
A little background on Brittany
Brittany is an Info Services Librarian at the Arlington Heights Memorial Library, specializing in jobs and careers. She received a B.A. degree in English from the Saint Xavier University in Chicago, IL and her MLIS degree from Valdosta State University in Valdosta, GA. In her free time, you can find Brittany venturing to discount book stores and antique shops, exploring the northwest suburbs, and roller skating. 
How did you get your start in libraries?
I worked as a library assistant in a high school while completing my undergrad degree. My former supervisor, Ellen Lawrence and school librarian, Allison Bava suggested I consider a degree in librarianship. I applied to three library schools and was accepted to all three. Since then, I have worked in public libraries in various positions.
Best advice you've received since starting your career in libraries?
The best advice I received came from my former supervisor, Heather Booth, who told me to get involved! Her advice was to join professional organizations that focus on public policy and advocacy.
Any advice to newcomers working in libraries?
Network. Network. Network. Join networking groups to help you form professional and personal relationships. When I first started, I joined a group for programmers to help me navigate my way through the world of library programming.
When and why did you become a member of ILA?
In library school, we were encouraged to join professional organizations, especially in our home state. I joined ILA in 2019 through my previous employer and volunteered for the Diversity Committee.
How has being a member of ILA helped you professionally? 
Professional organizations like ILA are important to support the advancement of our profession. As a member of ILA, I have access to professional development opportunities (e.g., continuing education, seminars, and lectures). From a professional standpoint, ILA has helped me stay abreast of current issues, industry knowledge, and best practices and resources for diversity and inclusion in the library profession. Additionally, ILA has provided me with the opportunity to network with other colleagues outside of my organization.
What is your proudest professional achievement to date?
My proudest professional achievement was being awarded the Illinois Humanities Community and Capacity Building Grant of $8,000.
Hardcover, paperback, e-reader, audiobook, or all?
Hard-cover. Like Carrie Bradshaw says, "I love the smell of books."
Favorite author?
Oh, that's a tough one! My favorite title is Memoirs of a Geisha by Arthur Golding. When I need a thriller, I read Peter Swanson.
If you were stuck on a deserted island, what five books would you bring with you to pass the time until being rescued?
Memoirs of a Geisha by Arthur Golding
Narrative of the life of Frederick Douglass by Frederick Douglass
Think and Grow Rich by Napoleon Hill
How to Stay Alive: The Ultimate Survival Guide for Any Situation by Bear Grylls
Incidents in the Life of a Slave Girl by Harriet Jacobs
Cat or Dog?
Cat
Favorite film, podcast, or television show?
The Sopranos or Power Television Series or Chicago P.D.
One person you would like to meet, dead or alive why?
This is a tough one. One person I would like to meet is #44, Barak Obama. This would give me the opportunity to thank him for his service and remind him how important it is to cancel student loan debt.