The Jerseyville Public Library Announces the Retirement of its Long-Serving Director and the Appointment of a New Director
June 9, 2022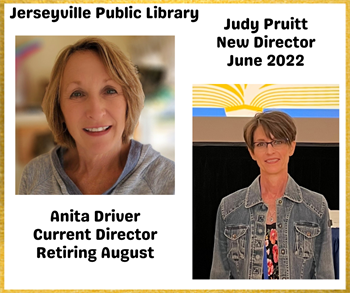 48 years is a long time to work at one place and that is precisely what Anita Driver will have accomplished at the end of August 2022 when she retires from the Jerseyville Public Library (JPL) as Library Director.
Anita began working at JPL when she was just 14 years old when the library was then known as the Jerseyville Free Library. She attended night school at Lewis & Clark Community College earning an Associate Degree in Library Science. When her mentor Eleanor Bell retired, she became director at the surprisingly young age of just 22 years old. Anita led the helm during the 1987 expansion project, planned the Children's Summer Reading Clubs from 1978-1991, brought about the automation of the library's collection, circulation and patron database in 1991, attempted to establish a district (county-wide library) in 1991, made patron internet usage available in 1996 and led the library through the challenges of the Great Unpleasantness of 2020.
Anita got married, raised children and welcomed grandchildren through her years at the library. Anita has built floats for Fair parades, loaded up and moved thousands of boxes, painted, cleaned, weeded, removed rodents, chased squirrels out of the building, cleaned up animal droppings from zoo programs that had to be moved inside during inclement weather and many other glamourous library director duties. Through it all, she has remained positive, upbeat and a dedicated and enthusiastic cheerleader of the library.
Anita's shoes will not be easy to fill but the Board of Trustees has found a well-qualified replacement who is up to the challenge. Judy Pruitt has accepted the offer to become the new Library Director and came on board in early June. Judy hails from Missouri but has served the last six years as Director of Library Services at North Central University in Minneapolis, MN. Prior to that she was a Public Services and Collection Management Librarian at Daniel Boone Regional Library in Columbia, MO. Judy is excited to relocate to Jersey County to be closer to her family members in Columbia, MO and Bethalto, Illinois. 
JPL will miss their fearless leader of so many years but is happy that Anita will have more time to play pickleball, camp and enjoy her family. We will see her face around the library for many years to come as Anita plans to be an active member of the Friends of the Library. The staff and board are excited to welcome Judy aboard while entering a new phase of the Jerseyville Public Library and continuing the library's mission to be a treasured resource to the city and county residents providing a vast array of services to the community.
A Meet and Greet will be held at the library on Tuesday, June 21 from 4:30 to 6:30 p.m. to enjoy some cookies and welcome Judy to the community.
JPL provides many services in addition to checking out materials. You will find public use computers, copy machine/color printer, fax machine, notary, homebound services, curbside pickup, interlibrary loans, digital products, public use wireless internet, meeting/tutoring/study rooms, microfilm dating back to the 1800s, and so much more. For more information, including library hours, visit their website at www.jerseyvillelibrary.org.