IACRL Member Spotlight: Annette Alvarado
September 23, 2021
Meet Annette Alvarado, Loyola University Chicago
Interviewed by Elena Carrillo, University of Illinois, Chicago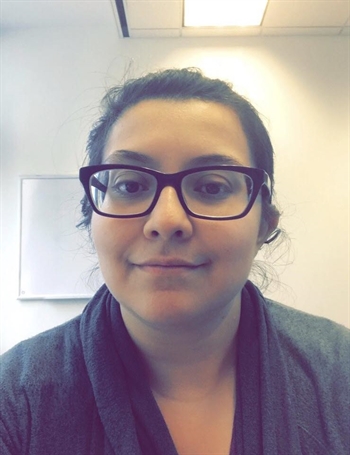 Annette Alvarado, Loyola University Chicago
Annette Alvarado is currently a Research & Learning Librarian at Loyola University Chicago, ​but her role as a liaison involves so much more, including: Liaison to Arrupe College, the School of Continuing and Professional Studies, and the School of Social Work. She is also the interim liaison for the Marcella Niehoff School of Nursing. Annette has worked at both public and academic libraries, and has an MLIS from Dominican University with emphasis on Academic and Special Libraries.
Tell us what you love most about the library profession. What gets you up in the morning everyday to come to work?
As cliché as this sounds, the students get me up in the morning. That is also why I love this profession, be it library patrons or college students; I enjoy teaching and guiding when it comes to research or finding a new book or graphic novel to read. Many of the students I work with come from neighborhoods, like the one I grew up in, Little Village (La Villita). So I really enjoy working with them and hearing how much they love a class topic, or how happy they are with the resources we have for them.
Your recent presentation on Intrusive Librarianship talks eloquently about being accessible, stepping away from the desk, and seeking out opportunities to be an active participant in the community. How has the pandemic impacted how you pursue this mission? What advice do you have for librarians struggling to connect while also trying to maintain safety standards?
The pandemic impacted every part of how I work with students. I've had to adapt and make use of technology, and you know some of the students like the fact that I had a zoom office. It gave me more flexibility for students in offering times in the evening and weekend. I had to remember that some of my students were responsible for their own children or their own siblings. Another thing that helped is continuing the partnership with the schools/departments I liaison for, being invited to virtual student events so that students could see/hear my voice. Even hosting a game of Among Us (I was nervous about this), was another great opportunity to meet students, socialize, and have some fun. So to any librarian that reads this, take a chance and do something new virtually that may or may not be in your comfort zone.
What is something new and exciting that's happening in the libraries at Loyola?
For the 20th Anniversary of September 11th we decided to participate in the Free Poster Exhibition from the 9/11 Memorial & Museum which was shared online via the ALA Public Programs Office. It has given us the opportunity to showcase our resources on September 11th but to also give students an avenue to interact and learn about an event that either happened before they were born or when they were very young. We have had a positive response from students and parents who have contacted us, thanking us for showcasing this sad historic event.
Your responsibilities cover a wide range of services and subjects: what are you most passionate about?
Programming and teaching, be it in English, Spanish, or Bilingual setting. I have really enjoy having the opportunity to teach, and to showcase resources that may be for academic research or for leisure.
How much bilingual teaching do you do compared to your other responsibilities? Is there more demand than can be met or do you currently have a good balance?
Loyola University has two graduate level bilingual programs that I work with, I provide library instruction, and research appointment services. The first is the Maestría Bilingüe en Trabajo Social and the second is Maestría de Artes en Estudios Pastorales Bilingüe. Most of the students come from across the United States and Latin American from a variety of backgrounds. These programs offer a high demand of research appointment requests that I conduct in Spanish.
With Arrupe College, I let students who are more comfortable speaking in Spanish to communicate with me either online (email or zoom) or in person in Spanish. I do this to offer a level of support and understanding so students feel comfortable approaching me for assistance. Because of this interaction I have also done purchasing on leisure reading materials and academic resources in Spanish to support these students.
Overall it's a good balance, and I enjoy having the opportunity to speak, read, and write in Spanish. It allows for me to connect with students and bilingual faculty.
As we continue to try to diversify the profession, what resources would you recommend? What would you like to share with students considering a career in librarianship?
I recommend two books:
Campus Counterspaces: Black and Latinx Students' Search for Community at Historically White Universities

by Micere Keels

College Libraries and Student Culture: What We Now Know

by Lynda M. Duke & Andrew D. Asher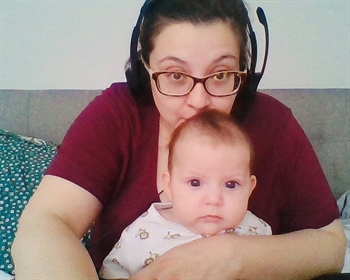 Annette doing some remote teaching with Madeline Olivia Aguilar Alvarado, who she refers to affectionately as her "pandemic baby"
The piece of advice I have to give is one they probably hear all the time: network and get to know your colleagues and peers of all ages. They have so much to share that can help you as you move along in your career.
Lastly, just for fun: if there were no pandemic, and time and money were no object, where would you love to travel this winter?
This is a hard question. I would create a multi-country/multi-city travel plan to Mexico, Brazil and Morocco. Visit as many museums, beaches, and restaurants (and food stalls!)! I have been to Mexico; most of my family lives in the state of Jalisco, in the city of Guadalajara. I love going to Mexico but would love to explore other parts of the country. Brazil has always been on my list, for the food, the beaches and carnival! Morocco is romanticized in my head, due to a telenovela I was into when I was younger, El Clon.