Fox River Valley Public Library District Board of Trustees Select New Director
June 29, 2021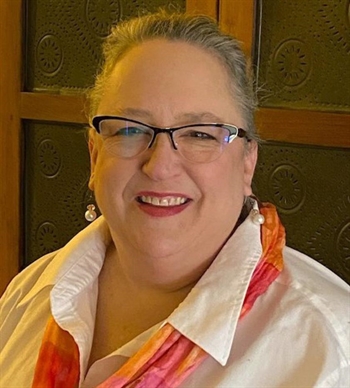 The Fox River Valley Public Library District Board of Trustees has named Amy Dodson as the next Executive Director to lead the library district. Dodson inherits the reins of a long-standing institution beloved by its diverse community.  Her start date is Monday, August 23.
"Amy brings a broad and solid base of library experience to our district, along with a demonstrated commitment to diversity, equity, and inclusion that is so important to our community. Her appointment demonstrates the board 's ongoing commitment to providing the highest quality of service to the district," said Board of Trustees President Richard Corbett.
Dodson has 25 years of professional library experience in Nevada, Colorado, California, and Tennessee. She most recently served as director of the Douglas County Public Library and Law Library in Nevada. Notable accomplishments in her previous positions include: helping to create an outdoor living library, raising funds to acquire a bookmobile, coordinating reconstruction of a library after a structural fire, and opening a homework center in a struggling neighborhood.
Dodson received the Paul Howard Award for Courage from the American Library Association in 2021, the Downs Intellectual Freedom Award from the University of Illinois School of Information Sciences and ALA's Freedom to Read Foundation in 2020, and the Best Small Town Library in America from Library Journal and the Bill & Melinda Gates Foundation in 2014. She has a Bachelor of Arts degree in English and Women's Studies from the University of Louisville and a Master of Science in Library and Information Science from the University of Kentucky.
"I am passionate about the free and equal access to information and opportunities that public libraries provide. Libraries are vibrant knowledge centers that foster lifelong learning, spark curiosity, and bring people together. I am an enthusiastic and experienced director, devoted to equity, diversity, and inclusion for all," shared Dodson.
For more information about the Fox River Valley Libraries, visit www.frvpld.info or call (847) 428-3661.
The district serves 70,000 residents of Carpentersville, East Dundee, West Dundee, Sleepy Hollow, Gilberts, and parts of Algonquin.