Forum Spotlight - Marketing Forum
April 1, 2021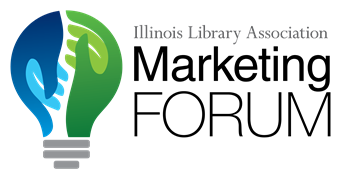 Whether you work in a large marketing department, or wear a part-time marketing hat along with many other "duties as assigned," check out the ILA Marketing Forum. The Forum represents the interests of library marketers and provides opportunities for them to network, share ideas and strategies, and develop best practices.

The challenges faced by libraries over the past year reinforced the critical importance of strategic marketing and thoughtful messaging. As the COVID-19 pandemic spread, libraries pivoted to virtual, often "homegrown" programming, along with innovative services like curbside delivery. Library marketers worked tirelessly to spread the word: libraries were very much open for business, even if business looked quite different from the norm. Library marketers also helped their libraries find their voices, in order to speak out for people threatened by racism, violence, and other societal problems.

The Marketing Forum typically hosts in-person meetings throughout the year. Only a few weeks into the pandemic, the Forum moved to a monthly, online roundtable format. These well-attended virtual gatherings make it possible for library marketers from across the entire state to join the discussion. The conversations provide a lifeline of support and invaluable information, helping library marketers feel connected and remain innovative during isolating times. Topics have included new social media trends and tools, popular software applications, summer reading, marketing to teens, video production, and more.

Roundtable topics are often drawn from the ILA Marketing Forum Facebook group, where 430 members post questions and share best practices and success stories. Need a vendor recommendation, or technical help with software or social media? Curious how other libraries staff and support their marketing departments? Need advice on managing an unusual PR situation? The Forum's Facebook group is a powerful resource!

The Forum postponed its 2020 Marketing Mini-Conference, but the event has gone virtual and will be held on April 16, 2021. This annual event features ground-breaking and inspiring presenters from all over the country, from the library field as well as related organizations like museums and educational institutions. Along with three outstanding presenters, this year's Mini-Conference will host poster sessions centered on issues of Equity, Diversity, and Inclusion. Generous partnerships keep the event very affordable, and attendees experience an entire day of relevant content and countless ideas to put into action on behalf of their libraries.

To register for this year's Mini-Conference or an upcoming roundtable, or to learn more about the ILA Marketing Forum, please visit our page on the ILA website.

This spotlight was written by the Marketing Forum Manager Karen McBride. Karen is the Public Information Manager at the Barrington Area Library.