Forum Spotlight - Marketing Forum
December 16, 2019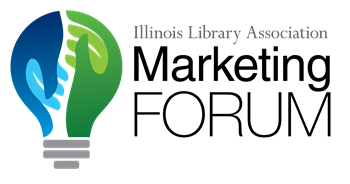 The Marketing Forum represents the interests of library marketers and provides a forum for them to network, share ideas and strategies, and develop best practices to disseminate through the ILA website and other channels, including conferences and events.

The Marketing Forum's biggest event of the year is the annual mini-conference. The mini-conference consists of a keynote speaker, breakout sessions, networking opportunities, swag swap, and more all in one day. This past mini-conference we were lucky enough to have famed library marketer Angela Hursh as our keynote speaker. Our next mini-conference is scheduled for Friday, April 17, 2020 at the Schaumburg Township District Library. We are excited about offering even more interesting speakers and topics. Be on the lookout for more information in early 2020.

Currently, the Marketing Forum offers a few resources including a blog and a Dropbox account where you can check out the best of the best from Illinois library marketers, but also have a chance to submit your best work. Visit the Marketing Forum page on the ILA website for a full list of links to our resources.

We are always looking for new members to help enhance the Marketing Forum. New members should contact Marketing Forum Manager, Sasha Vasilic, if interested.

If you're not interested in becoming a board member, but want to still be a part of the Illinois library marketing community, the Marketing Forum would suggest joining the RAILS/ILA Marketing Facebook Group. The Facebook Group is a terrific outlet to ask questions to fellow library marketers as well as receive invitations for networking events in the Chicagoland area. The networking events are typically on a quarterly basis.

This spotlight was written by the Marketing Forum Manager Sasha Vasilic. Sasha is the Head of Public Relations and Marketing at the Niles-Maine District Library.