Natalie Hall is the Recipient of the 2020 TBS, Inc. Technical Services Award
October 1, 2020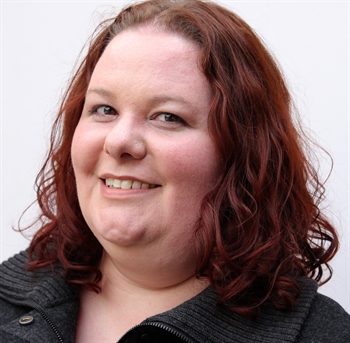 Natalie Hall, Technical Services Coordinator at Moraine Valley Community College Library, is the recipient of the 2020 TBS, Inc. Technical Services Award. This annual award, presented by ILA's Resources and Technical Services Forum and sponsored by Today's Business Solutions, Inc., is awarded to an individual who has made a substantial contribution in the area of library technical services, principally with commitment to leadership, programming, and professional development in the technical services field.
Natalie has served in her role at Moraine Valley Community College since 2015 and has worked in library settings since 2000. Not only does she manage the daily operations of the Technical Services department, but since she arrived at MVCC, she has taken on many significant projects including the improvement of the college's library catalog by transitioning it to RDA and developed cataloging best practices for her staff. In addition, she has worked with other departments to improve policies and inter-departmental procedures.
Prior to MVCC, Natalie has worked as a cataloging librarian, a music librarian and in music education. Natalie has significantly contributed to the area of cataloging education. She has taught formal classes at the graduate and undergraduate level as well as workshops on such topics as cataloging, authority control and use of cataloging tools in the region and across the state. Natalie is also a member of WILIUG, holding board positions in the past.
The TBS, Inc. Technical Services Award will be presented at a ceremony that will be held in conjunction with the 2020 Illinois Library Association Annual Conference, which will take place virtually in October.