Meet the new IACRL Secretary/Treasurer: Qiana Johnson
September 23, 2020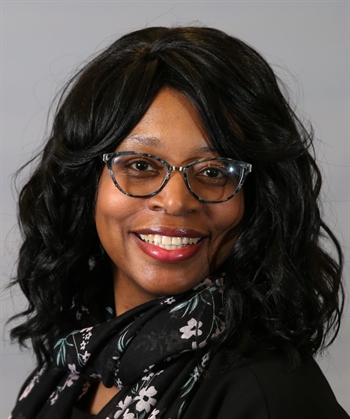 Qiana Johnson, incoming Secretary/Treasurer of IACRL
Meet the new IACRL Secretary/Treasurer: Qiana Johnson
Interviewed by Jill Harper, Heartland Community College 
Qiana Johnson works at Northwestern University and has recently been elected to serve as the Secretary/Treasurer of the IACRL. We wanted to catch up with Qiana and talk about her current role at Northwestern and hear her thoughts and perspectives on the future of academic libraries.  
What does your typical day look like in your current position at Northwestern University? 
I have stepped into a new role very recently, so I don't have a typical day just yet. In my new role, I lead the libraries' thinking about what our strategies will be relating to collections. This includes both short-term strategies as we navigate the pandemic and our longer-term strategies for the next 5-10 years. This involves working with our library leaders to clarify our values and what initiatives we want to prioritize on our campus as well as part of consortia we are active in. And as the libraries formulate these priorities, thinking about how we communicate this information across the campus and talk about how these priorities are in support of campus initiatives. 
I will admit that a lot of this work is represented on a variety of notepads (both analog and digital) as I meet with different folks across the library. So the one typical part of my day might be reviewing the notes in these various places and thinking about how these disparate conversations are coming together into common themes. 
What made you decide to be a librarian? 
I told my grandmother when I was 4-years-old I wanted to be a librarian. But I wandered away from that plan later in high school and college and explored a number of careers over the years. I came to realize that the common thread through most of the careers I explored was enjoying the research part of the roles—identifying the best resources to answer a question, determining the best way to share that information with people, and then showing people how I located that information. In all my interactions with libraries, I appreciated that someone (or most likely a team of someones) had taken the time to identify materials that they felt would be valuable for users in the present or the future. I especially appreciated this future thinking collection development in my fourth year of college as I was working on a paper about the audience of classical ballet in Soviet Russia that my professor expressed concern about being able to find materials related to the subject. I was able to find a wealth of materials in my university's library. 
I decided to become a librarian to help patrons learn how to locate the best resources for their research as well as to be part of library decision making around their collections to meet current and future needs of patrons. 
I guess 4-year-old me was wiser than I gave her credit for. 
What do you think are going to be the greatest challenges facing academic libraries in the next few years?

The challenges I see are very much through a collections lens. I think one challenge for academic libraries is the volume of materials patrons have to choose from—an increasing number of journal titles and books; primary sources, datasets, etc. How do libraries choose from amongst that wealth of resources the materials that will best serve users now and in the future? Are there materials that are hidden or harder for librarians or users to identify? And with the wealth of resources available, how do libraries balance the needs of its current patrons with the desire to collect speculatively for future users to curate part of the scholarly record. 
Another challenge related to the wealth of resources available is restrictive licensing agreements that can sometimes make it impossible for libraries to provide access to some kinds of content to their users. Libraries inability to make some resources available can be challenging for users who might not otherwise be able to acquire the materials on their own. 
Finally, while the amount of materials available continue to grow, library collections budget have not grown at a similar rate. Academic libraries' buying power has also been impacted by the growing percentage of the budget taken by recurring costs, leaving less flexibility for acquiring new materials. All of these challenges make for a complicated juggling act. 
Are there any shows/books that you have been binge watching/reading through the quarantine? 
I am a big fan of mysteries, both books and TV shows. I have been using this time to revisit or catch up on some favorites. I recently read the latest entry in Ben Aaronovitch's Rivers of London series False Value and the latest in Julia Spencer-Fleming's Clare Fergusson/Russ Van Alstyne series Hid From Our Eyes. For TV shows, I've been catching up with the British show Midsomer Murders. They are up to 21 seasons, so there is plenty to catch up on. 
Do you have any advice for librarians returning to work and trying to regain that sense of normalcy? 
Our spaces and routines are going to look very different than they have before. Our old routines might not even be possible. And while that can be anxiety provoking, we can embrace creating new routines that work in our current environment. I also recommend, depending on your preference, looking at or reading something at the start of your day that makes you reflect or makes your laugh (or sometimes that wonderful combination of the two). 
Thank you, Qiana, for taking the time to share your thoughts and ideas!