Legislative Update -- June 25, 2020
June 25, 2020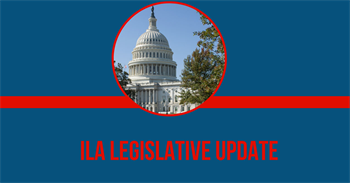 This week, as Illinois heads toward Phase 4 of Governor Pritzker's "Restore Illinois" plan, both the Illinois State Board of Education (ISBE) and Illinois Board of Higher Education have released guidelines for potential fall re-openings of school, college, and university buildings.
ILA and AISLE had requested ISBE include school librarians in the development of the agency's guidelines. We did not hear back, and in fact the guidelines do suggest the use of a school library as classroom space, with delivery of library materials to classrooms and continuation of remote services in-building and/or library staff visiting classrooms for library instruction. This is an opportunity for us to re-emphasize the importance of these materials and services, and AISLE has a survey open (also noted below) about how school librarians are an integral part of successful online learning. Please respond! We will continue to advocate for the inclusion of school librarians in decision-making at the state level.
IBHE's guidelines do not expressly address academic libraries, but the guidelines are applicable to many library functions. In addition to general guidance such as social distancing of workstations and furniture, utilization of face coverings, cleaning of shared computers and other equipment, and hand sanitizing stations; guidelines address determining which work can continue remotely including "research and administrative functions;" support for remote learning for students in isolation or quarantine; and considering traffic flow in "congregate spaces." ILA's Bigger Than a Building campaign features some talking points with language applicable to academic libraries; and a sample communication to campus stakeholders (analogous to the existing one for mayors) is forthcoming.
Census 2020
Field operations, that is, census workers delivering questionnaires, resumed in Illinois and several other states in early June. Of course, it is still possible for residents to reply online, by phone, or by mail; as previously announced, the deadline for data collection has been moved from July 31 to October 31, 2020. As of June 23, the latest day for which information is available, Illinois ranked #8 in the nation for self-response at 66.4%; the national level is 61.6%.

ILA's new governance year begins July 1, and that includes the Public Policy Committee (PPC). Please use the "Contact Us" button on PPC's web page to share with ILA Executive Director Diane Foote and incoming PPC Chair Daniel Matthews, Moraine Valley Community College, your ideas for areas of focus.